No pit in hell is deep or hot enough for these bastards.
A 12-year-old boy was kidnapped and killed in southern Kandahar province on Wednesday, his severed head placed near his body to send a warning to police, said provincial governor spokesman Jawid Faisal.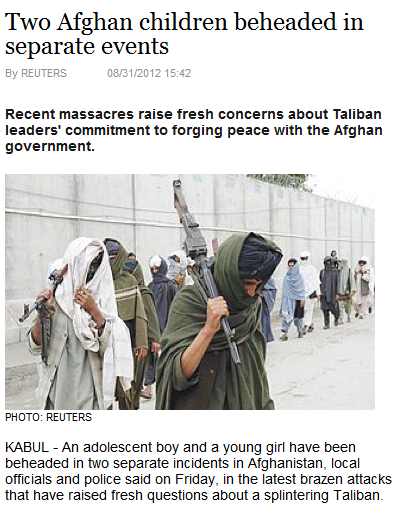 The brother of the boy, neither of whom were named by officials, was a member of the Afghan Local Police (ALP), a US-trained militia charged with making Afghans in Taliban strongholds, like Kandahar, feel more secure, Faisal said.
"It's a Taliban warning to the ALP and to others who support the government," Faisal said of the killing, which happened in Kandahar's Panjwai district.
Taliban spokesman Qari Yousuf denied the group was involved.