Russians better wake up, that mosque is meant for them.
UPDATE: Islam TV Takes To Russia's Airwaves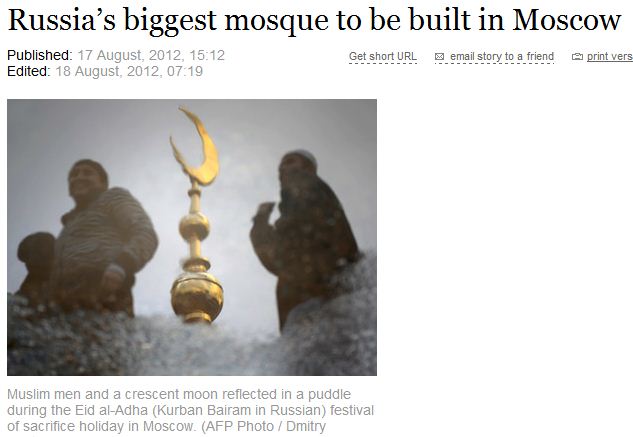 A huge mosque able to accommodate up to 60,000 worshipers is to be built on the outskirts of Moscow. It's estimated the city is home to up to two million Muslims.
The project to construct the mosque and a cultural center has already been discussed with the capital's mayor Sergey Sobyanin and is currently being looked at by Moscow's Committee on Architecture and Urban Planning, writes Izvestia daily.
The new mosque is expected to become one of the largest in the post-Soviet countries and the most spacious in Russia. The town planners have yet to find a suitable location for the massive structure. The Muslim community would prefer it to be located close to the Moscow Ring Road and not far from the Metro. A decision is expected to be announced in September.
"We asked the Moscow government to give us a parcel of land. The work with documents is currently underway and we are expecting an official response," Albir Krganov from the Central Spiritual Board of Muslims in Russia told the paper. A new mosque is essential, he stressed.
"According to different estimates, several million Muslims reside in Moscow and the Moscow region. Four mosques for such a large city as Moscow are not enough," Krganov pointed out.