Lapplanders now have more than reindeer on their minds.
H/T: Scottish Infidel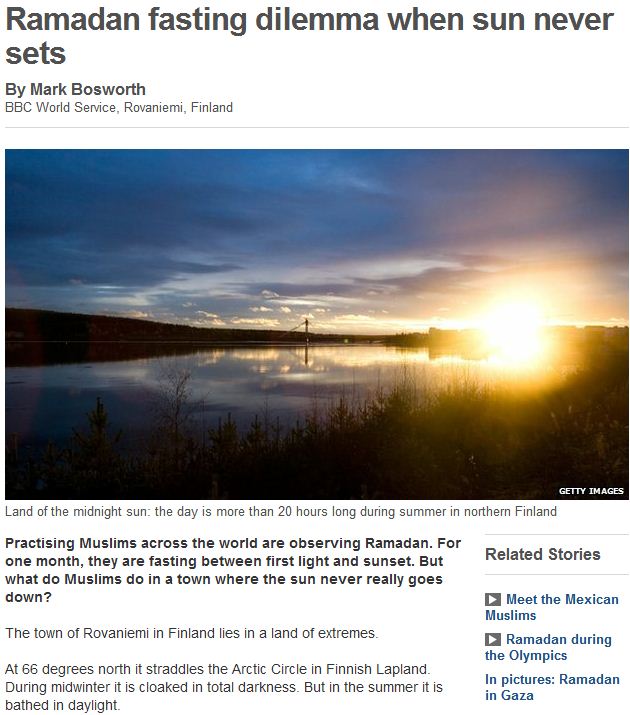 The long days pose a particular problem for fasting Muslims like Shah Jalal Miah Masud.
It doesn't get dark. It always looks the same. The sun is always on the horizon"
The 28-year-old moved to Rovaniemi – 830km (515 mile) north of the capital, Helsinki – from Bangladesh five years ago to study IT. He has not had any food or water for 21 hours. And he laughs.
"It doesn't get dark. It always looks like the same, the sun is always on the horizon and it's quite difficult to get what the time is actually right now," he says.
It is 11 o'clock in the evening and the sun has only just dipped below the horizon. The sky has turned a beautiful deep, rich blue. This is as dark as it will get, then the sun will rise again in five hours.
Masud says it is difficult to fast according to Finnish time and admits he is tired. But despite the hunger and fatigue, he says it is a pleasure to observe Ramadan during the long Finnish days.
There is another option which reduces the number of fasting hours – mark its duration by the rising and setting of the sun in countries far to the south of Finland. Dr Abdul Mannan – a local Imam and president of the Islam Society of Northern Finland – says there are two schools of thought.
"The Egyptian scholars say that if the days are long – more than 18 hours – then you can follow the Mecca time or Medina time, or the nearest Muslim country time," says Dr Mannan.
"The other (point of view) from the Saudi scholars says whatever the day is – long or short – you have to follow the local time."