Gee, they never expected for them to murder their own soldiers, just Israelis…
NOTE: Will the radicals on the Left be protesting the Egyptian move, sending sailing ships to its shores in protest, or perhaps even a flytilla into Cairo airport? Heh, ..no way.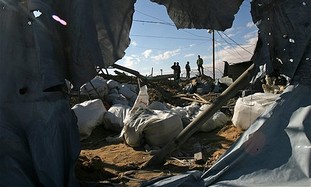 'Egypt moves to seal off Gaza smuggling tunnels'
By JPOST.COM STAFF, REUTERS08/07/2012 17:15
Source says heavy equipment brought to Rafah border town, adds campaign "aims at closing all openings between Egypt, Gaza."
Egypt began work to seal off smuggling tunnels into the Gaza Strip on Tuesday, a security source said, amidst an uptick in public discussions by Israeli leaders over Egypt's willingness and capability of policing the increasingly lawless Sinai Peninsula.
The move came two days after gunmen shot dead 16 Egyptian border guards in an attack blamed partly on Palestinian Islamists.