THE MASK FINALLY COMING OFF
Interestingly enough, a large Norwegian national daily finallly describes how corrupt Norway is behind its mask. The paper Dagbladet has published a number of articles on how corrupt various Norwegian companies are. This is important because now we have a major Norwegian source which deals with many cases. Together with the Odfjell case, it shows the low ethics of the Norwegians.
NOTE: The following article was recently published in the Dagbladet, I'll get the url link to the story if it was published online.
UPDATE: There isn't any url, but a photo copy of the original article in Norwegian is published below the fold.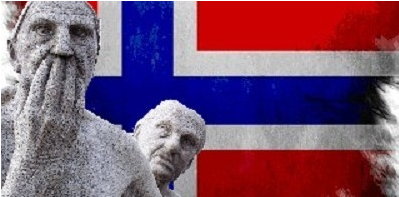 The Angelwings must come off
Anne Marte Blindhheim abl@dagbladet.no
Yet again are the financial Newspapers filled with Norwegian corruption scandals abroad. The most shocking thing is that nobody gets shocked. Even though Norway comes out better than most countries, we'd expect no less (!), are we according to the Transparency Internationals yearly index at the top of corruption amongst the Nordic countries. A global report from the accountant firm PwC based on [voluntary] self reports, shows has more corruption issues/events than the average for Western-Europe. The last couple of years a number of scandals have been unravelled.
In 2002 STATOIL paid bribes to the son of a president for a contract in an iranian gas field. When HYDRO and STATOIL fused in 2007, old corruption like events from the Libya-activities in the 1990's emerged. Robert Hermansen, a former CEO in the "Great Norwegian Spitsbergen coal company, was last year convicted to prison for having made him self rich from the power of his position. This summer the "Telenor" mobile [phone] company in India, "Uninor", is indicted for corruption relating to their awarding mobile licensing. And "Yara" has alerted the "Economic-crime police" of bribes of the order of 100 million Nok bound to projects in India and Libya. Three top [company] heads are charged with heavy [ gross] corruption . One of them, Thorleif Enger, these days publishes the book "It's about being the best". SO that we may understand "what it takes".
How did it turn out this way? [After all,] upfront Norwegian companies have ethical guidelines. [And After all,] the Norwegian Penal law has such harsh penalties for corruption. [After all,] the politicians have said that the companies should have routines for alerting [whistle bowing]. Our politicians and top bosses both "expect" and "prepares the ground for" Norwegians abroad to be the worlds best. Well, here lies the problem. It's all just [fine] words.
The following example is not about corruption, but about how ugly things, in this case tar-sand , is rolled in in angles feathers. Through all the years STATOIL boss Helge Lund has said/explained that Norway shall extract oil from Canadian tar-sand in a better and cleaner way than everybody else [all others]. Minister of Oil Ola Borten Moe has [gratefully] taken this argument in his defence of the [when defending the ] activity [of Statoil in Canada]. This late spring earlier Statoil chief, Dr Robert G. Skinner, gave the Norwegian self-righteousness a soild kick in the behind. "This is pure fiction [storytelling]for a Norwegian audience", he said, "The problem is that Norwegians expect that their company shall be the best and cleanest in the world". The truth is that Statoil are beginners in a field [area] where others have been active for a long time. WHy should they be the best ?
Norwegian politicians are very concerned with/aware of/sensitive about reputation but do little to guide the companies in the right direction. When it comes to corruption, the business world needs systems which give strength to resist. Everybody realizes/understands that to run business/companies in countries like Angola and Aserbajdsjan involves challenges.
"Transparency International" (TI) evaluated the 12 Norwegian integrity systems that are important in the fight against corruption, amongst them the parliament, government, law courts, business and media. The institutions work well but not perfect. TI suggests a [significant] number of measures, like compulsory registration of the elected politicians properties/investments and economic interests, more openness [transparency] in the public sector and semi-public sectors and country by country reporting in business, something that may disclose "daughter companies" in tax-free countries.
Corruption hunter Helge Kvamme in PwC has another approach, that takes based on [the notion/assumption] that top leaders are not always super criminals. That is an exciting thought. He asks for a 13 [ 13th ?, 13 points ?] pillar[s]. A system based on voluntary reporting of serious incidences/events, where companies can get help tp investigate. Today there is nothing [no option] between denial [keeping silent] and alerting the police. Whistle blowers have nowhere to go with their issues. The risks for whistle blowers feels [is experienced as] large relative to the chance to succeed [get through / reach the intended aim]. For a top leader there is little to gain from "telling" [alerting] and cooperating. The chance to go free [getting away with a felony] is larger than the risk to get caught. The Economic crime police have little capacity and only take the really obvious cases, preferably those that are already uncovered by the press or private investigators. Thus [Thereby / because of this] the numbers from PwC's study [mapping / characterization] hidden [kept in the dark] from the authorities.
Big angle wings shade the reality. At present [Right now] the [Norwegian] companies have no credibility whatsoever with [our] customers and with the trust amongst the five million co owners [Norwegians] home in Norway. Our ministers don't seem to care , and the attitudes are contagious. We commit villain pulls on foreign [others] territories and don't give a d[amn]. The suggestions taht lie on the table show that much more can be done to combat corruption – if one wishes.
Another article highlighting the same case is below the fold. Here are a couple of other related articles as well.
2005: (Norway amongst the worst)
http://www.dagbladet.no/nyheter/2005/11/30/450805.html"
2005: Corrupt journalists (e.g. paid by the foreign ministry)
http://www.dagbladet.no/weblogg/blog.php/bbore/post/3952




Silence is not always gold
Incidents of serious corruption is about to hurt Norway's reputation. It is time the government steps up efforts.
Norway is among the countries that are at the top of the list of the extent of financial crime, according to PwC Global Economic Crime Survey. It is serious, and it is worrying that there seems to be contrary to the perception that many have. Faith and Facts votes apparently do not match.
Studies in recent years and especially issues that are known through the media, shows that it is the big unknown and that corruption risks are present in both the private and public sector in Norway. For example, we have seen many examples of bribery corruption in public administration.
The ongoing investigation of Yara is one example of issues that we almost daily to read or hear about in the media: that Norwegian businesses are affected by corruption in international business. Is it at all possible to conduct business and development activities in certain countries without being involved in corruption? If honesty is the answer may be no for some countries and areas where Norwegian business and aid agencies have operations. Such situations are considerable challenges in relation to preventive measures also from the authorities.
Fortunately, many businesses and organizations put considerable efforts against serious corruption. Unfortunately, they get little help from the government, which seems to be of the opinion that a severe punishment is sufficient.