Please bear in mind that this is coming from the terrorist Syrian opposition forces fighting the terrorist supporting dictatorial Baath regime of Assad.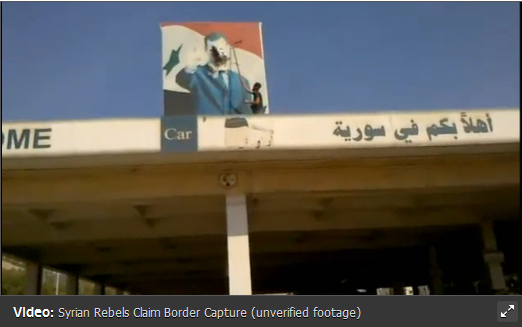 Syria Rebels Take Over Border Crossings
Rebels have attacked Syrian forces along the border with Iraq, killing 21 soldiers and seizing control one of the major border posts, a senior Iraqi army official said.
Amateur video posted online also showed rebels taking over the Bab al-Hawa border crossing with Turkey, where they tore up portraits of Syrian President Bashar al Assad.
The developments on the borders come as activists say 250 people were killed in Syria on Thursday – the highest daily number since the revolt against Assad began 16 months ago.
And nearly 19,000 Syrians, many from the capital, have fled from violence at home across the border into Lebanon since Wednesday, a Lebanese security source said.