The gong show continues.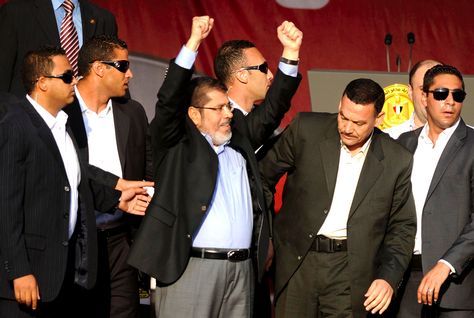 Court brawls put spotlight on Egypt political chaos
(Reuters) – Supporters of Egypt's Muslim Brotherhood brawled with their opponents in court on Tuesday, delaying rulings that might help define the powers of new Islamist President Mohamed Mursi as he seeks more autonomy from the military.
Mursi's Brotherhood allies hailed a "decisive" day in a chaotic transition to democracy and hundreds of supporters turned up at the courthouse to accuse the generals of using the judiciary to undermine his authority.
Overwhelmed by the shouting and jostling, the presiding judge suspended the hearing and moved to another courtroom to try to restore order. But many lawyers left as the disruption dragged on and the day ended with little progress.
"This court has always taken pride that its chambers are open to the public," Judge Abdel Salam el-Naggar told the court. "What happened in that chamber – is such terrorism appropriate?"
The anger on display in the courtroom underscores widespread frustration at a chaotic and faltering democratic transition made possible by last year's overthrow of autocratic leader Hosni Mubarak.
Despite his election victory in June, which ended more than 16 months of army rule, Mursi has yet to form a cabinet and there is no fully functioning parliament or constitution for Egypt, deepening the sense of turmoil that has pushed the economy to the brink of a balance of payments and budget crisis.
Judges have dismissed accusations that they are influenced by the military and opinion is split on whether the Cairo administrative court will strike down the constituent assembly, a body rewriting the constitution that was formed by an Islamist-dominated parliament the generals have since dissolved.
The divisions were on full view at the courthouse.