It's a peace treaty you dolt, not a work in progress subject to change. Clinton and the Obama administration treats the signed agreement like they treat the U.S. constitution, to mean anything that they want it to mean after the fact. Talk about a novice U.S. State Dept., these jokers are a laughing stock.
NOTE: November 2nd can't come soon enough.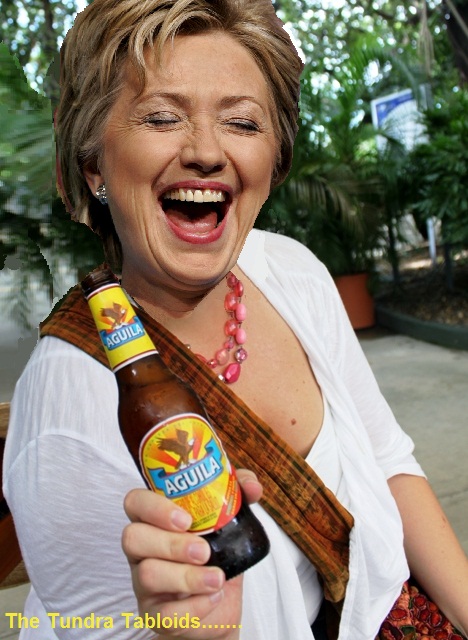 Clinton:  And thirdly, we discussed Egypt's role as a leader in the region. I commended the President for going to the African Union Summit to reassert Egyptian leadership in Africa and emphasized the importance of upholding Egypt's international agreements. More than three decades ago, Egypt and Israel signed a treaty that has allowed a generation to grow up without knowing war. And on this foundation, we will work together to build a just, comprehensive, regional peace in the Middle East based on two states for two people with peace, security, and dignity for all.
Egyptians pelt Clinton motorcade with tomatoes
Sun, Jul 15 2012
By Arshad Mohammed and Marwa Awad
CAIRO (Reuters) – Protesters threw tomatoes and shoes at U.S. Secretary of State Hillary Clinton's motorcade on Sunday during her first visit to Egypt since the election of Islamist President Mohamed Mursi.
A tomato struck an Egyptian official in the face, and shoes and a water bottle landed near the armoured cars carrying Clinton's delegation in the port city of Alexandria.
A senior state department official said that neither Clinton nor her vehicle, which were around the corner from the incident, were struck by any of the projectiles.
Protesters chanted: "Monica, Monica", a reference to Former President Bill Clinton's extra-marital affair. Some chanted: "leave, Clinton", Egyptian security officials said.
It was not clear who the protesters were or what political affiliations they had. Protesters outside Clinton's hotel on Saturday night chanted anti-Islamist slogans, accusing the United States of backing the Muslim Brotherhood's rise to power.
The assault on her motorcade came on a day Clinton spoke at the newly re-opened U.S. consulate in Alexandria, addressing accusations the United States, which had long supported former President Hosni Mubarak, of backing one faction or another in Egypt following his ouster last year.
"I want to be clear that the United States is not in the business, in Egypt, of choosing winners and losers, even if we could, which of course we cannot," Clinton said.
Clinton also met the country's top general, Field Marshal Hussein Tantawi, on Sunday to discuss Egypt's turbulent democratic transition as the military wrestles for influence with the new president.