Not even an Imam is spared the cruelty.
Here in the West it's called a brutal homicide, over there it's called …. sport.
H/T Weasel Zippers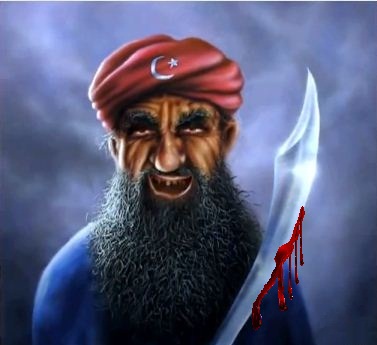 Pakistan: Two including Imam Bargah prayer leader beheaded in Quetta
12-07-2012
QUETTA, (The Express Tribune): Two bodies, including one identified of an Imam Bargah prayer leader, have been recovered from the Mian Gundi area on the outskirts of Quetta on Wednesday.
According to the police, some people informed the police about the presence of the bodies in a mountain near Mian Gundi area. Officials rushed to the spot and cordoned off the area after discovering the bodies.
The bodies were shifted to the Bolan Medical Teaching Hospital for an autopsy.
"They were slaughtered and beheaded in a brutal manner," hospital sources said adding that their ages ranged between 28-30 years of age.
They were identified as leader of Satellite Town Imam Bargah Maulana Nour Ali Nour and Syed Haseeb Abad Zaidi, a resident of Sirki Road, Quetta.