Oh, and this is the group that Obama congratulated on their electoral successes.
The Muslim Brotherhood, like Hamas it's fakestinian branch, can't help themselves from being honest about their Jew hatred.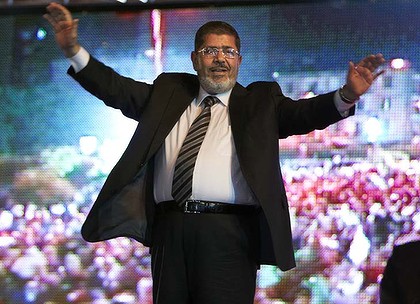 Muslim Brotherhood Supreme Leader Calls for Jihad on Israel
This would be the same "leader" of Egypt's new president, the Muslim Brotherhood's Muhammad Morsi—and the man whom some have even portrayed as the true power behind Egypt's presidency, with Morsi acting as his puppet.
According to last Thursday's edition of Al Wafd, during his weekly sermon, "Muhammad Badi, the Muslim Brotherhood's Supreme Guide, confirmed the necessity for every Muslim to strive to save al-Quds [Jerusalem] from the hands of the rapists [Israelis] and to cleanse Palestine from the clutches of the occupation, deeming this an individual duty for all Muslims."
More specifically, he "called on all Muslims to wage jihad with their money and their selves to free al-Quds"—the same exact language one finds in al-Qaeda's tracts.