The Tundra Tabloids has extreme low regard for any of the members of the House of Saud, their wealth was never created by their own hands, they sit at the pumps sucking the oil that  discovered by Western technology,  and continue to suck it and the billions the world pays for the black crude gets funneled into the jihad being waged against it. So this wealthy welfare recipient gets no sympathy from me.
NOTE: The TT has had it's own run in with the Saudis, which Blazing Cat Fur linked to after I was forced by Princess Deema Turki Al- Saud's lawyers to remove it. Check it out.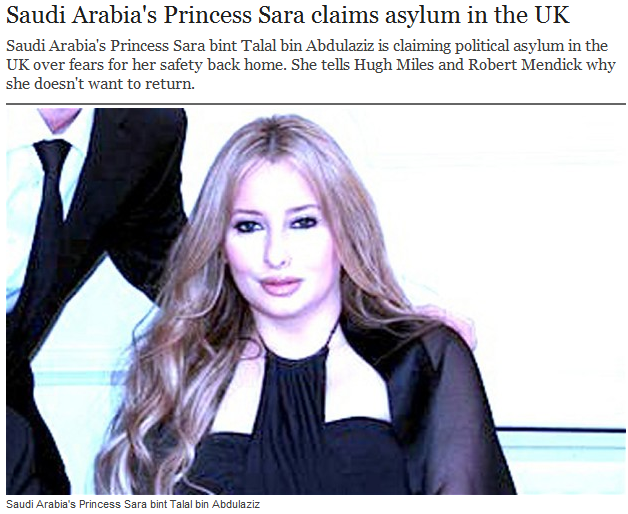 By Hugh Miles and Robert Mendick
9:00PM BST 07 Jul 2012
She was Saudi Arabia's "Barbie" princess; the pampered granddaughter of the Kingdom's founder and daughter of one of his most powerful and favoured sons.
Princess Sara bint Talal bin Abdulaziz, however, is claiming political asylum in the UK over fears for her safety back home.
The claim, the first ever made by such a senior member of the ruling family's inner circle, will embarrass the Saudi dynasty and threatens a diplomatic row.
Princess Sara, 38, accuses senior Saudi officials of plotting to kidnap her and smuggle her back to Riyadh, having subjected her to a "well orchestrated and malicious campaign of persecution".
She currently occupies a suite and several rooms in a five-star London hotel with her four children and two dogs, guarded by a private security team.