I was asked by Arnold Roth, father of Malki Roth, who was murdered by Palestinian terrorists in the Sbarro pizza parlor attack in 2001, to spread this message. Malki's murderers are walking freely today, getting married, laughing and enjoying life, something that Malki roth was denied by the terrorist who committed the act of suicide-genocide terrorism with the bomb they supplied. This is an outrage that needs to be addressed. Please forward this post on your social sites.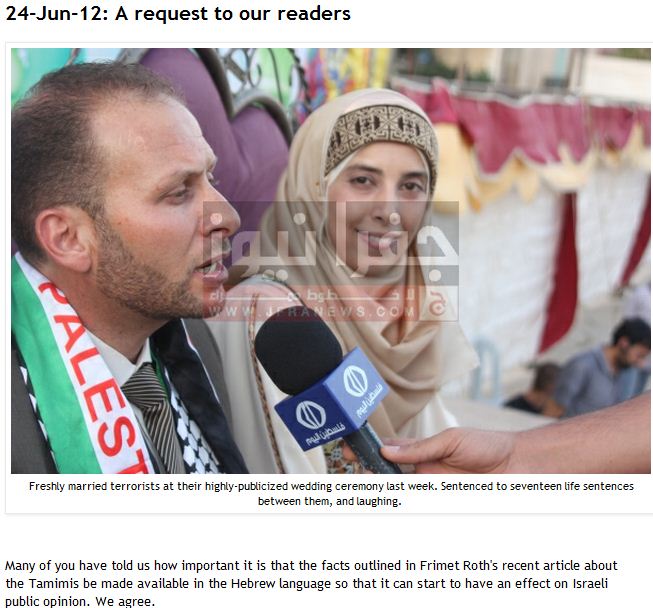 We previously asked for your help last year (see "14-Oct-11: Please sign a petition to keep this particular terrorist behind bars"). Close to ten thousand of you signed our petition in the three days that were available to us at that time. Now we have another request.
Frimet's article is entitled "So you thought Netanyahu is tough on terrorism? Not exactly". It was posted on this blog last week and cross-posted the same day on the Times of Israel website. She wrote it after the initial supportive media coverage came from the good people at Israel National News some days earlier.
A cry of anguish, Frimet's op ed concerns our daughter's murderer and the gift she was granted earlier this month by the government of Israel. The narrative has numerous aspects from which the Israeli public has been shielded until now. We don't know why.
Today, Israel's newspaper of record, Haaretz, carries Frimet's op-ed article in Hebrew. It's entitled "נדיבים לרוצחים", meaning "Being Generous to the Murderers".
Here's our request. If you have Hebrew speaking friends or acquaintances who you feel should become aware of what has taken place in this sad and worrying extended affair, please point them to today's article in Haaretz – נדיבים לרוצחים. For your English-speaking friends, please refer them to the English version of the same article (here on our blog). We have nothing more than this to ask. People should simply know.