It was the only logical outcome.
UPDATE: The Great One, Mark Levin says the supreme court actually gutted it. Left it open for litigation by the left, as well as granting a defacto amnesty. He is greatly disappointed in justice Roberts.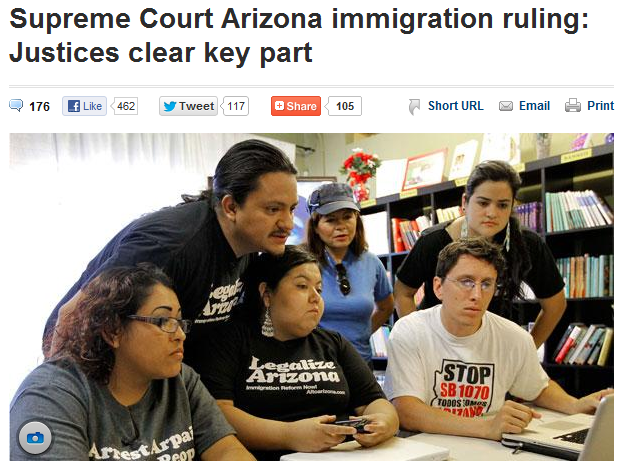 By JOSH GERSTEIN | 6/25/12 10:45 AM EDT Updated: 6/25/12 12:18 PM EDT
The Supreme Court on Monday rejected a constitutional challenge to a central provision of Arizona's anti-illegal immigration law, clearing the way for similar legislation to take effect in other states and potentially angering Latinos in a way that could give President Barack Obama an added boost from Hispanic voters in November.
That provision, requiring police to conduct immigration checks on individuals they arrest or merely stop for questioning whom they suspect are in the U.S. illegally, does not appear to violate the Constitution by intruding on the federal government's powers to control immigration, the court said.