Kind of getting the feel that the fix is in?
We've seen the same thing in Sweden, where a mosque selling anti-Semitic tapes was given the thumbs up by the top Swedish prosecutor's office, that refused to charge them with anything. It's the soft racism of lower expectations at work here, or as dr.Manfred Gerstenfeld labels it, "humanitarian racism".
NOTE: So in taking the Dutch prosecutor's logic further, anyone calling for lets say, the deportation of all Muslims who refuse to fully integrate into Dutch society, but explains the reasons why such a deportation is not possible due to current Dutch law, is not in violation of any Dutch laws.
H/T: Always Watching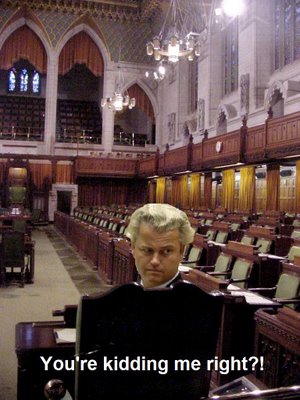 No racial hatred charges for British Sharia law expert
Friday 22 June 2012
dutch.nl: The public prosecution department has no plans to bring charges against a British-Palestinian expert in Sharia law for allegedly making comments which incited hatred and discrimination in Amsterdam earlier this year, news agency ANP reports.
Haitham al-Haddad made the comments during a debate which replaced a two-day symposium at Amsterdam's VU University. The conference was cancelled following a row over al-Haddad's views about Jews.
Anti-Islam campaigner Ehsan Jami had called for legal action against al-Haddad after he told the debate ex Muslims deserve the death penalty, as outlined in Sharia law.
However, the public prosecution department said al-Haddad had not committed any offences because he had outlined a number of conditions for applying the death penalty which made it clear this could not happen in the Netherlands.