OOPS!
Turks are in on supplying terrorists trying to topple the terrorist supporting regime of Syria.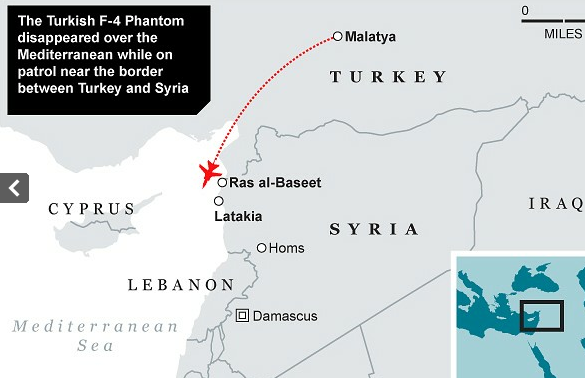 Syria 'shoots down Turkish fighter jet'
Syrian air defences "shot down" the Turkish jet fighter that went missing while on patrol near the border between the two countries on Friday, according to local television reports.
By David Blair, and Barney Henderson4:16PM BST 22 Jun 2012
Reports in Turkey initially stated that Prime Minister Recep Tayyip Erdogan claimed that Syria had apologised for shooting down the plane.
"Syria immediately offered a very serious apology for the incident and admitted it was a mistake", Haberturk daily newspaper quoted Mr Erdogan as saying onboard a plane on the way to Turkey from Brazil.
However, Mr Erdogan later told a news conference that he could not confirm reports that Syria had shot it down and had apologised.
He said he had no word on the fate of the pilot and navigator on board.
"The chief of general staff has made the necessary statement about the missing plane. I am not saying it was brought down at the point it fell. It is not possible to say this without knowing the exact facts,"