If Gen. George S.Patton were alive and on the scene of the desecration, he would have justifiably killed the vermin off, every last one of them.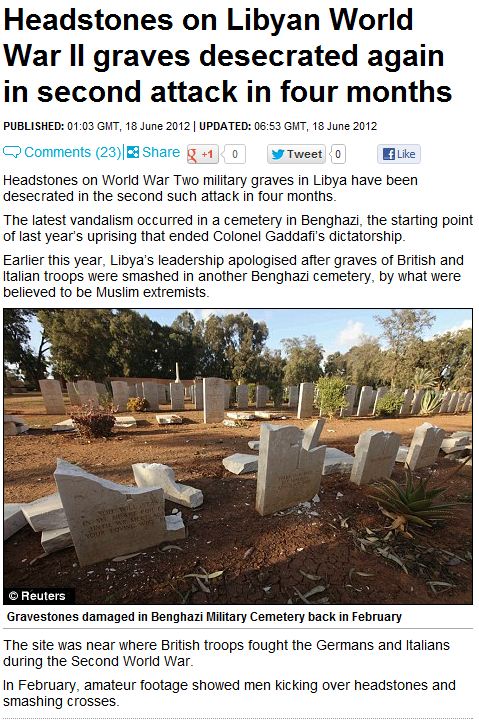 One man was heard saying: 'This is a grave of a Christian.'
Of the latest attacks, a council spokesman said: 'We don't know yet who did this. We have spoken to the security committee about investigating.'
A gravestone is seen damaged by an Islamist group in protest at the burning of the Koran by U.S.
'This cemetery has been here for decades and nothing like this has ever happened before.'

Benghazi is now a hot spot for violence with arms readily available and state security forces struggling to assert their authority.

A convoy carrying Britain's ambassador to Libya was hit by a rocket-propelled grenade on Monday, wounding two of his bodyguards.
Five days before that, an explosive device was dropped from a passing car outside the offices of the U.S. diplomatic mission in Benghazi.
The blast that followed slightly damaged the gate in front of the building.
Earlier attacks targeted the International Committee of the Red Cross and a convoy carrying the United Nations envoy to Libya.
Security experts say the area around the city is host to a number of Islamist militant groups opposed to any Western presence in Muslim countries.