Simply put, Jussi Halla-aho should never been brought up on any charges at all, let alone convicted. What's worrisome here is the notion that hate speech needs defining, when in fact, it needs to be stricken down once and for all. The ambiguity of these hate speech laws is what makes all of this possible.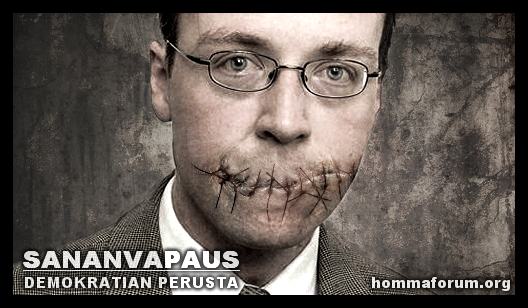 Should hate speech definitions be clarified?
IltaLehti: In Effi's view (Electronic Frontier Finland – Effi ry), the judgment received by Halla-aho of ethnic agitation currently shows that freedom of speech is excessively limited in relation to other freedoms and rights.
– Penal Code Section on incitement against ethnic group is too open to interpretation, says Effi's Vice Chairman Leena Romppainen.
According to the Supreme Court, it believes that Halla-aho's blog post "A few baits for Mika Illman" was hate speech. Effi criticized the Supreme Court on the fact that "hate speech" is not defined by law, and therefore, it is difficult to judge.
– Now try to stop people from saying all sorts of nasty things, says Romppainen.
Effi based on its position that the European Court of Human Rights (ECHR) has outlined its ruling, that freedom of expression also covers other posts that offend, shock or disturb the State or any part of the population.
According to Effi, it would be important for society to discuss a greater variety of opinions.
– the organization believes that Halla-aho's opponents would have been equally quick to open their mouths and does not necessarily head for the courtroom. For example, the U.S. public debate is, according to Romppainen more active than in Finland.
Effi is also willing to make some restrictions on complete freedom of speech.
– Everything can't be allowed, and one must stand behind the words. However, speaking anonymously should be made possible. The fact that things are said in the name of others is again not acceptable, Romppainen says.
Romppainen believes that the law of incitement against an ethnic group should be clarified for ordinary people to understand.
SAIJA RÄSÄNEN
@ ILTALEHTI.FI