The man accused comes from a retarded society.
Lets see here, a book burnt and two children die in the process. Normal minded folks would hold the view that the desecration of human life to be the worst atrocity. Muslims beg to differ.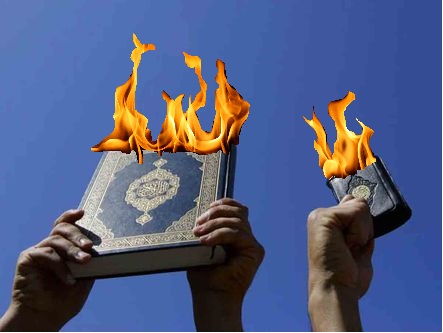 Desecration of Holy Quran': 2 children killed in Quetta protest
QUETTA: A mob attacked a police station in Quetta on Saturday, demanding a man detained for allegedly desecrating the Quran be handed over, leaving at least two children dead and 19 with gunshot wounds.
Violence erupted after police arrested a "mentally retarded" man said to have burnt pages of the holy book in Kuchlak, about 16 kilometres (10 miles) north of Quetta, senior administration official Qambar Dashti told AFP.
"Angry protesters, mostly Afghan refugees, torched several vehicles and pelted police with stones," Dashti said. They burnt tires and blocked the Quetta-Chaman highway.
"Chanting the man should be killed for blasphemy, they later entered the police station and started firing," he said, adding that a senior police officer, SP Saddar Malik Irshad narrowly escaped while his police guard was wounded in the shooting.
Police fired tear gas shells and opened fire in self defence, Quetta police chief Qazi Wajid said. ATF and FC had to be called in to bring the situation under control.
The clash left two children dead and 19 people wounded including eight policemen, he said. "All the wounded people have bullet injuries," he added.
Via TROP