And the OIC still pimps its propaganda that Islamofauxbia is the most pressing of world problems to solve.
H/T Vlad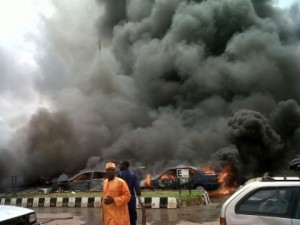 Another Dark Sunday: Suicide Bomber & Gunmen Attack Churches in Jos & Borno
It's another bloody Sunday in Nigeria as reports of a bomb blast rocking the city of Jos has again taken the lives of innocent individuals. Although the number of casualties is yet unknown and no group has claimed responsibility for the attack, media reports say a suicide bomber blew himself up at the Lord's Chosen Church, Rukuba Road, Jos while gunmen sprayed a congregation with bullets in Biu, Borno state.
The Plateau State Commissioner of Police, Emmanuel Ayeni, has confirmed the explosion but says the casualty figure is yet to be ascertained.
Also, a group of angry youths have mobilised themselves at the scene of this morning's suicide bomb attack in Jos, Plateau state.
Meanwhile in Biu in Borno state, gunmen opened fire on a church, spraying the congregation with bullets and killing and wounding many of them, witnesses said.