Probably celebrating the soon to be reversal of the gains won in the U.S. Rebellion against the King of England.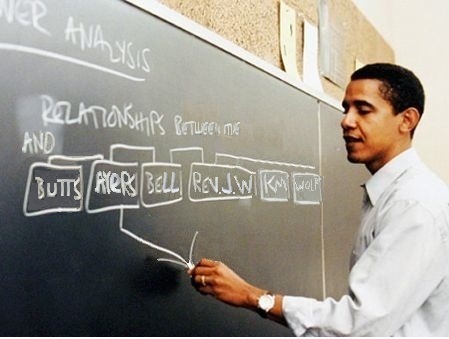 EXCLUSIVE – THE VETTING – SENATOR BARACK OBAMA ATTENDED BILL AYERS BARBECUE, JULY 4, 2005
As a presidential candidate in 2008, Barack Obama disavowed any connection with former domestic terrorist Bill Ayers, the Weather Underground radical who was one of Obama's early backers and his colleague on the board of the Woods Fund in Chicago. We now have proof that Obama's association with Ayers continued even after Obama had been elected to represent Illinois in the U.S. Senate–in the form of a now-scrubbed blog post placing Obama at the home of Ayers and his wife, fellow radical Bernardine Dohrn, on July 4, 2005.
[…]
Obama's presence–as a U.S. Senator–at the Ayers barbecue has been confirmed by another source, who told Breitbart News: "I too saw Obama at a picnic table in the Ayers/Dohrn backyard, munching away–on the 4th of July."
The fact that Obama socialized with Ayers and Dorn contradicts the statement that Obama campaign spokesman Ben LaBolt gave the New York Times in 2008:
Mr. LaBolt said the men first met in 1995 through the education project, the Chicago Annenberg Challenge, and have encountered each other occasionally in public life or in the neighborhood. He said they have not spoken by phone or exchanged e-mail messages since Mr. Obama began serving in the United States Senate in January 2005 and last met more than a year ago when they bumped into each other on the street in Hyde Park.
That statement now appears to be "Clintonian" in its dance around the truth. Obama and Ayers may not have emailed or spoken by phone, but they had, we now know, spoken face to face–at least on July 4, 2005, and perhaps at other times as well.
NOTE: What kind of person associates with a person like this?