Acid in the face is a well known terror tactic by Muslim abusers of women.
Used car salesman murdered his son, estranged wife and her father by setting fire to their home after his marriage collapsed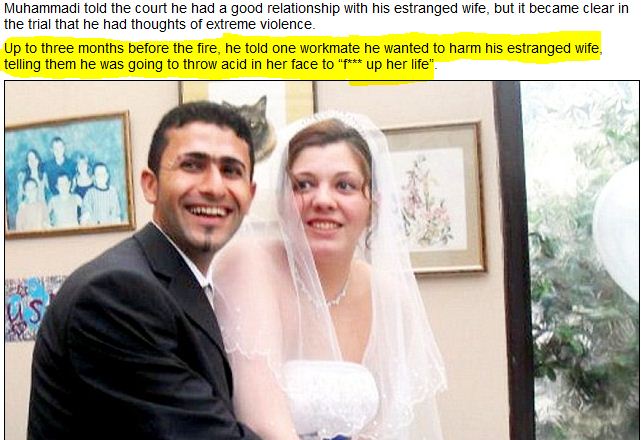 Danai Muhammadi and an accomplice used garden spray to start blaze that killed wife, 20, baby son and father-in-law


Court heard how Iraqi-born killer was fuelled by 'spite, anger and resentment'

Muhammadi was linked to murder scene by number plate technology

By IAN GARLAND
PUBLISHED: 18:45 GMT, 1 June 2012 | UPDATED: 18:47 GMT, 1 June 2012
A used-car salesman has been found guilty of murdering his estranged wife, their young son and his father-in-law by setting fire to their family home after his marriage collapsed.
Danai Muhammadi, 24, was fuelled by 'spite, anger and resentment' when he killed Melissa Crook, 20, and their 15-month-old son Noah by torching the house in Chatham Hill, Chatham, Kent.
Mrs Crook's father Mark Crook, 49, was left critically ill with severe burns in hospital following the fire just before 2.30am on September 10 last year and he died six days later.
Muhammadi and his friend, bouncer Farhad Mahmud, 35, squirted petrol through the letter box using a garden spray container, leading to fire breaking out at the base of the stairs. Mahmud was also found guilty of three counts of murder.
The location of the fire cut off any reasonable means of escape for the family who were asleep upstairs as the blaze took hold.
As smoke and flames filled the three-bedroom terraced house, Mrs Crook collapsed in an upstairs bedroom and was found dead by firefighters lying by her son who was wrapped in a quilt.