How totalitarian/fascistic of them. It's called murder.
What is also left from being mentioned by the MSM, is the bill's banning of race based abortions, apparently the Democrats haven't a problem with babies being aborted due to skin color. Real sicko, and Obama has a long track record in defending such measures.
NOTE: Read Jonah Goldberg's book, Liberal Fascism, it's a major eye opener.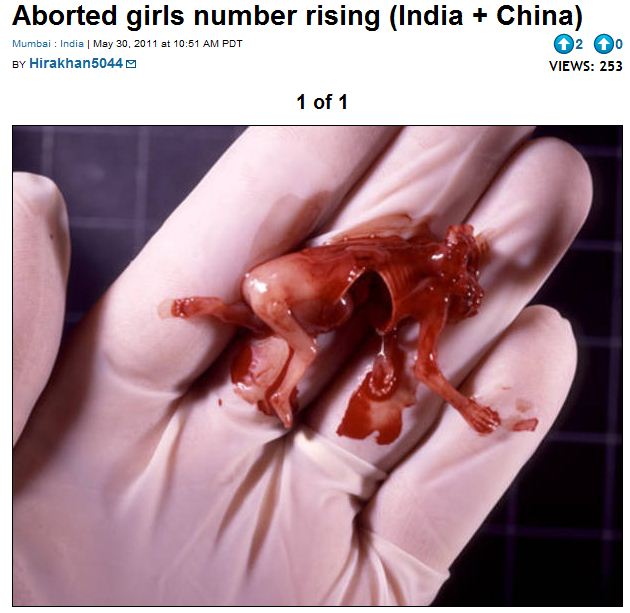 Picture from: Allvoices.com
WH: Aborting a Baby Because She's a Girl Part of 'A Very Personal and Private Decision'
(CNSNews.com) – The White House is opposed to a bill that was proposed in the House that would ban sex-selection abortions.
In defending President Obama's opposition to the bill, White House Press Secretary Jay Carney said it would force abortionists into the position of trying to determine the "motivations" behind a "very personal" decision.
During the White House press briefing Wednesday, Fox News reporter Ed Henry asked, "since the president has been outspoken about being against gender-based discrimination, how can you allow gender-based abortion?"
White House Press Secretary Jay Carney responded that President Obama is against discrimination in all forms, but the legislation under consideration would penalize doctors.
"Well, Ed, the administration opposes gender discrimination in all forms," Carney said. "But the end result of this legislation would be to subject doctors to criminal prosecution if they fail to determine the motivations behind a very personal and private decision. I think we, again, oppose gender discrimination in all cases. I think our record on that is very clear. The president's record on that is very clear.
"But the purpose of this legislation – or the result of this legislation would be to subject doctors to criminal prosecution for failing to divine the motivations of their patients when it comes to a very personal and medical decision," Carney said.
The Parental Non-Discrimination Act would make abortions based on a baby's gender illegal by creating a penalty for those who knowingly have gender-selective abortions, coerce a woman into having one, or provide transportation to a woman so she can come to the U.S. to have a gender-selective abortion.
The bill was defeated in the House Thursday in a 246 to 168 vote, because it failed to get a two-thirds majority.
Henry followed, "To figure out how to get to the bottom of this – because when the one-child policy in communist China comes up, people of all political stripes in this country are outraged that girls are killed, essentially. How can that happen in this country?"
Carney stuck with his original statement.
More here (+ video)