What a jerk.
Ollu Rehn, the Finnish poobah of the EU commission overseeing the economics of the union, is a bureaucratic hack, an economics ignoramus, an ideologue and an absolute disaster, who puts politics over fiscal reality every time there is a vote. He has his fingerprints all over the "Euro crisis" and deserves the boot, but guess what folks, he's an appointee, and not held directly accountable to the people, so we are stuck with this jerk, unable to dislodge him from public disservice.
NOTE: I have been saying from the very beginning that these same hacks, responsible for getting us all into this mess, can't be expected to get us out of it. We need sound fiscally responsible people, who hail from the economic school of Hayek and Friedman, to close the lid on the Euro once and for all, and return economic policies back to national governments.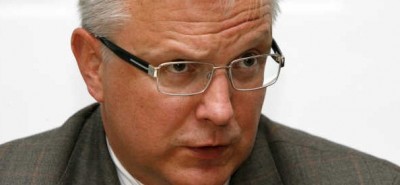 Euro is facing disintegration, Commission warns
The euro faces 'disintegration' unless European governments do much more to work together, the European Commission has warned.
Olli Rehn, the economics commissioner, gave the warning as Mario Draghi, the head of the European Central Bank, criticised national leaders for a "lack of action" to help the single currency out of its crisis.
Spain remained at the eye of the financial storm yesterday, amid continuing fears for its banking sector.
Investors in Spanish banks are withdrawing money at a record rate, figures showed yesterday. More than £55 billion was withdrawn and moved out of the country last month.
Yesterday's figures are for the month before the Spanish banking crisis entered its latest phase with the nationalisation of Bankia, one of the country's biggest banks.
Even more money is thought to have left the country since then, raising fears that Spain is locked in an unbreakable cycle of market panic.