The Demorcats have long used the pulpits to preach their socialist message to the Black community, and now a higher profile visit from the DNC using a bimah to do the same thing has raided a lot of eyebrows. I feel that Obama this time around, will not be receiving as strong of support from many communities, Jews included, as he did in 2008.
NOTE: The woman is also a shameless liar, but she's a Democrat, that's to be expected, to be a liberal you have to tell lies.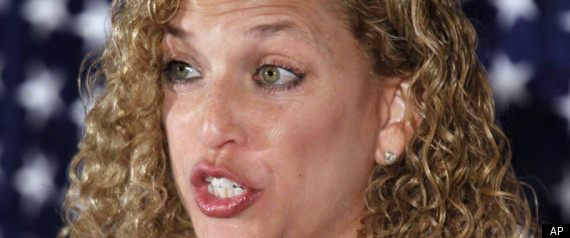 BIMAH BRAWL
CONTROVERSY GROWS OVER POSTPONED APPEARANCE BY DEMOCRATIC CHAIRMAN AT MIAMI SYNAGOGUE
A growing controversy over an appearance by Rep. Debbie Wasserman Schultz (D., Fla.) at a liberal Miami synagogue has fractured South Florida's large Jewish community and spawned concern that multiple area synagogues are jeopardizing their non-profit status by engaging in blatant pro-Obama advocacy.
The latest uproar began when the Obama-aligned president of Miami's Temple Israel refused to allow a prominent Republican congregant to rebut Wasserman Schultz's remarks. That prompted the congregant to quit the synagogue, which postponed the event.
It is not the only recent political controversy at a South Florida synagogue. Anti-Obama Jews were manhandled and removed from a highly politicized speech by Ambassador Susan Rice at the B'nai Torah Congregation in Boca Raton earlier this month.