Vote our way or the highway.
This shows you the nature of the "democratic" vote (how it's understood) in Egypt, majority rule, screw the rest. It's the main reason why the Founding Fathers created a constitutional republic in the U.S., which is fundamentally different to majority rule democracy (read = tyranny). Add to that mix fundamentalist Islam (a tyranny) and you have the makings of a tyrannical rule and all the intimidation it can muster against the individual that opposes it.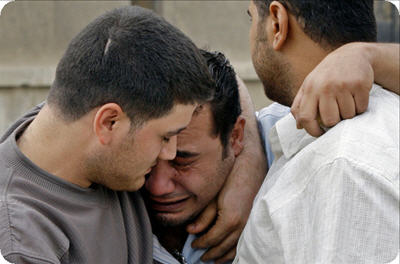 Islamists in Egypt Blame Christians for Voting
(AINA) — The official results of the first round of the Egyptian presidential elections were announced today, the run-off will be between Mohamed Morsy, the Muslim Brotherhood candidate, and Air Marshal Ahmad Shafik, Mubarak's last PM, who served for less than one month during the revolution and before Mubarak was ousted.
This results, which were expected since Friday, has enraged many Egyptians who feel that they are left with two options, each worst than the other, namely either going back to the Mubarak regime represented by Shafik or the Islamists who will drag Egypt into being another Afghanistan or Iran. Nasserist candidate Hamdeed Sabahy, favored by a great number of youth — especially those who participated in the 25 January Revolution, came in third.
Many Islamists, fearing Shafik if he comes to power, especially after vowing to bring back order and security within one month of his election, are blaming Copts for voting for Shafik and bringing him to second place. Copts have been accused of being "traitors" and "anti-revolutionary" for voting to bring back the old regime.
Nearly 6,000,000 Christian Copts were eligible to vote, from a total Coptic population of 18,000,000 Copts (according to the Church's data).
H/T: Baron Bodissey