A TURTLE BAY TRIUMPH
Here is something that symbolizes what the UN has come to stand for. The UN has long since lost any credibility it once had, and any resolution passed by the UNGA (all non-binding I might add) especially against Israel, has to be viewed under that rubric, and not parroted (like a person with turrets syndrome) for political points.
H/T: Always Watching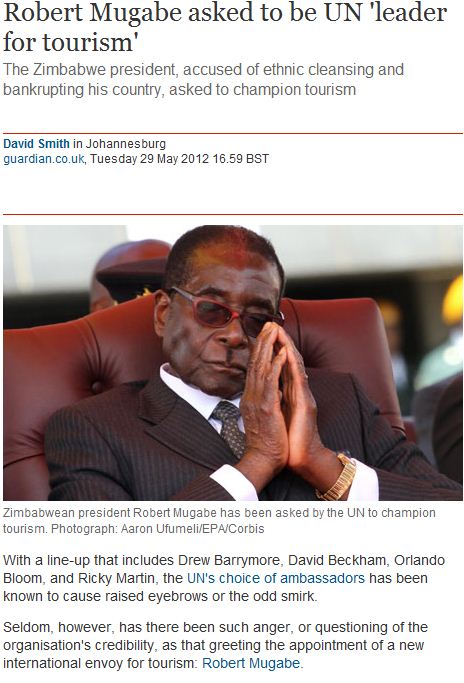 […] "Improbable as it seems, the Zimbabwean president, who is widely accused of ethnic cleansing, rigging elections, terrorising opposition, controlling media and presiding over a collapsed economy, has been endorsed as a champion of efforts to boost global holidaymaking.
Despite that fact Mugabe, 88, is under a travel ban, he has been honoured as a "leader for tourism" by the UN's World Tourism Organisation, along with his political ally, Zambian president Michael Sata, 75. The pair signed an agreement with UNWTO secretary general Taleb Rifai at their shared border at Victoria Falls on Tuesday."