Of course there are many more nut-job Democrats waiting in the wings to get their chance to best him. That said, I am glad this evil little troll is going and hopefully Ohio elects a more sane representative.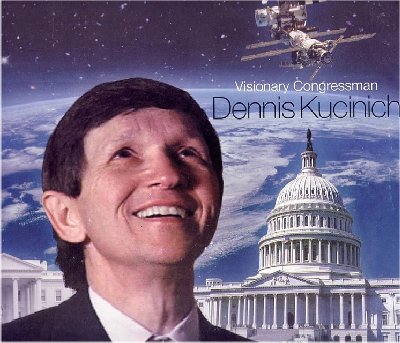 h/t: TINSC
Dennis Kucinich opts out of Washington state race, will retire
Ohio Rep. Dennis Kucinich announced Wednesday he has decided against running for Congress in Washington state, where activists had urged him to launch a campaign. In a statement, Kucinich signaled the end of his 16-year congressional career:
Because of my love of public service, I have given a great deal of time and much thought to the advice and encouragement I have received from so many people of good will in Washington State. I certainly want to continue to be of service to our country and to the working men and women who have built it.
After careful consideration and discussions with Elizabeth and my closest friends, I have decided that, at this time, I can best serve from outside the Congress. My commitments to peace, to workers' rights and to social and economic justice are constant and are not dependent upon holding an office.
When the outspoken anti-war lawmaker discovered over a year ago that redistricting would pit him against fellow Democratic Rep. Marcy Kaptur, Kucinich began openly eyeing a Washington state U.S. House bid, saying voters there were asking him to relocate.