Here is the money quote IMHO, that goes to the heart of Islam's war against Israel. It explains the Muslim Arabs' concept of "peace treaties", their calls for a "bi-national state" and their all out war against the Jewish state's entire Existence.
Sheik Omar Bakri: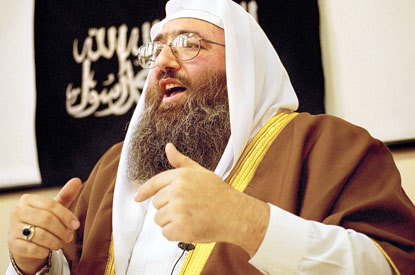 "But a Muslim coexists with an infidel either through a peace treaty (hudna, a temporary truce until they deem otherwise), a dhimmi pact (dictates of how non-Muslims will live within an Islamic state), or a state of war (what Israel has had to live with all of its existence). That is the basic relationship between a Muslim and an infidel."
Omar Bakri's statements are not outside traditional Islamic thinking, and it's high time people begin to realize the mindset that they are up against.
NOTE: One interesting tid-bit, for those of you who don't know, the fundamentalist Islamic preacher also has a daughter who pole dances. If she ever went back back to Lebanon…she'd be slaughtered like a sheep.
H/T and upload: Vlad