And as I hear it, lots of Moroccan, Algerian, Tunisian and Turkish flags, but next to no French flags at all. Reporters milling about but no one reported the goings seen in the video. I have only the original French version, but Vlad says he'll try to get it translated into English.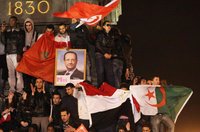 JForum: We are just 1 ½ months of the drama from Toulouse … and for some people, many in this video, it's as if nothing had happened ….
The National Bureau of Vigilance Against Anti-Semitism has received many reports from users of shocked by the content of a mini documentary filmed on the evening of 6 May 2012, Place de la Bastille by Khoutspa TV during the demonstrations of joy and jubilation, following the election of Mr Francois Hollande to the Presidency of the French Republic.
All our correspondents were surprised that journalists and reporters from national media was not identified, nor commented on the reasons for the presence of many foreign flags, Palestinian, Algerian, Moroccan, Egyptian, etc. … and the absence of French flags, during this spontaneous demonstration meant to celebrate an event of such national importance. The story of TV cameraman Khoupsa young activists who questions the reasons for Palestinian flags is very edifying.
Here is a sample of what was said:
Members of the crowd: "The Jews . .. they are racists . . . they kill children . . . they stole a state . .  they are today's hangmen . . . The Jews don't have the right to a state. . .  The explosions [of human bombs] are acts staged by the Israelis to besmirch Islam . . . A state based on a religion is a racist state [?like Morocco, Algeria, Tunisia?]. . . We're gonna give a kick. If fists are not enough, we will go with weapons. . .
Interviewer: Your name?
Member of crowd, apparently an Algerian: Mohammed Merah.
NOTE: If any of my French readers want to help in getting this into English, please contact me in the comments to this post.
H/T: Elliot