The crimes of the National Socialists are so great (with the crimes of the Communist Socialists yet to be considered and dealt with in the same way) that any commemoration including SS soldiers is revolting.
H/T: BadNewsFromTheNetherlandsBlog: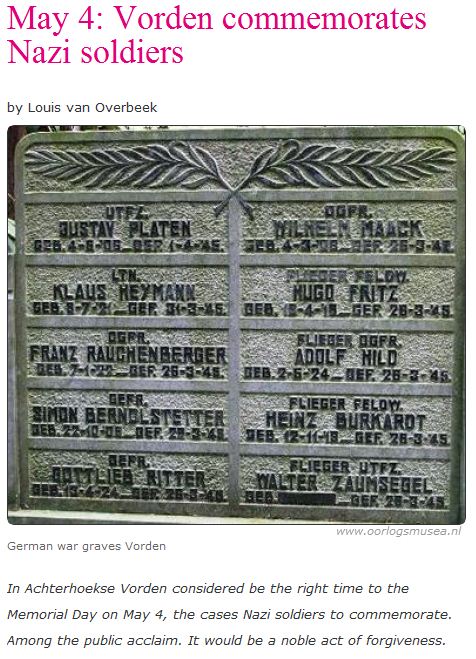 Dutch Town Wants to Remember Nazi Soldiers on National Memorial Day
The town of Vorden intends to remember on National Memorial Day for the Fallen in the Second World War on May 4 also the Nazi soldiers who are buried in the town. In the town are the graves of 10 Nazi soldiers. The choir of the town will sing German songs at the memorial. The initiators of this say that there is much support for this in the town.
Esther Voet, the Deputy Director of the Center for Information and Documentation on Israel (CIDI) said that in the Netherlands, there is a trend of effacing the border between victim and perpetrator in the Second World War. In its framework on National Memorial Day, also Nazi soldiers and traitors will be remembered.
More in Dutch at: www.katholieknieuwsblad.nl
NOTE: Also worth viewing is Alan Charles Kors dissertation on Communism being held to the very same standards as National Socialism has been by world historians and politicians. The criminality of both International and National Socialism need to be exposed on every level, and all the symbols of both relegated to the ash heap.