Salafist jihadi wannabees = eventual violent terrorists.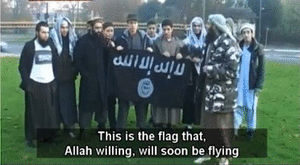 The Mohammedan cult of the mystic moose in Belgium
Intelligence Service: Small Islamist Group May Become Violent
BadNewsFromTheNetherlandsBlog: The 2011 Annual Report of the Dutch Intelligence Service AIVD mentions that the Shariah4Holland group has the potential to become violent. This small radical Islamist group publicly strives for the introduction of Shariah law in the Netherlands. The movement attacks in a provocative way dissident Muslims and the perverted Dutch Western society.
Its supporters disturbed a debate in Amsterdam about reform in Islam. They have indicated together with Shariah4Belgium that they will commit more of these types of actions. The AIVD says that the threat of the group at present results from the polarizing and radicalizing effect which starts from provocative actions and ambiguous remarks about the use of violence.