Just like the Islamo-nutjobs in Egypt.
This is the giant pachyderm in the room that Western politicians and the media refuse to recognize, in fact they explain it away, "they really don't mean what they say, it's all just "rhetoric", part of the normal discourse of the Middle East. However, more times than not, whenever opportunity presents itself the "rhetoric" of these Islamic fundamentalists becomes actual acts of violence.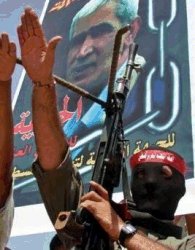 The conundrum
There can be no peace with the Hamas, you cannot expect this violent organization that predicates its very existence on the elimination of Israel, to recognize the Jewish state,  and in doing so, invalidate the entire premise for their existing as an organization. Those who hold onto this irrational notion are only fooling themselves.
It's one of the reasons why the various think tanks that promote talks with Hamas, are the ones who bury themselves in the minutiae of the so called "pragmatism" of these Islamonazis. They're both looking and 'finding' something that's not really there. Which make them into fools.