Lars Hedegaard- The Scene at Yesterday's Danish Supreme Court Hearing
by Jerry Gordon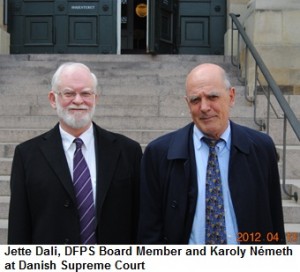 We had the occasion today to speak with Lars Hedegaard, President of the Danish Free Press Society (DFPS) about the circumstances behind yesterday's hearing before the Danish Supreme Court. A mutual Canadian colleague and friend, Bjorn Larsen, flew to Copenhagen to observe the proceedings. Larsen is a Board Member of both the Canadian and International Free Press Society.
He sent us some photos of Hedegaard and his counsel, Karoly Németh and DFPS board member, Jette Dali. Németh escaped from his native Hungary as a teenager during the 1956 Revolt and has become a brilliant advocate in his adopted country.Németh arrived at the Supreme Court on his own power. He rode a bicycle. Larsen said in an email that the entire proceeding lasted approximately three hours. The prosecutor spoke for almost two hours, Nemeth for 40 minutes and Hedegaard for approximately 10 minutes. See our post of Hedegaard's statement.
Hedegaard, in our brief phone conversation, today set the stage for yesterday's proceeding in the historic Christiansborg Palace in Copenhagen. The Danish Supreme Court has a roster of 19 justices. In normal matters, the court would have five justices listening to presentations by the opposing prosecutors and defense counsels. According to Hedegaard, yesterday's Supreme Court session had a complement of seven justices, the Chief Justice or President and six others.
He and others believe that may be an indication that the Supreme Court is taking the matter of his conviction under Article 266b of the penal code seriously and that whatever ruling emerges may be precedent-setting. The ruling will be posted next Friday, April 20th. Unlike US Supreme Court proceedings the Danish justices do not engage in oral questioning of the prosecutors or defense counsel. Nevertheless, Hedegaard was told by a former Danish parliamentarian that should the decision go in his favor, it might be a signal to the Parliament to open up discussions about changing the language of Article 266b in the Danish Penal Code to permit presentation of facts as truth, which is the standard under US case law.