Maybe it's the Muslim Brotherhood's insistence that Egypt adhere to 7th century Islamic law (the sharia) in the 21st century, that has resulted in the tarnishing of their image.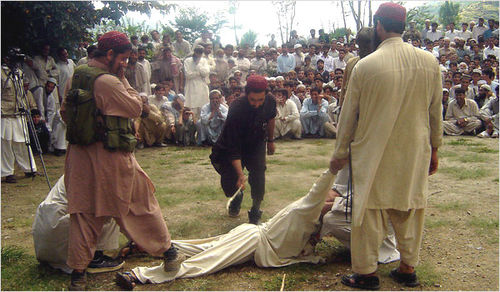 Just like in the good ol' days, eh boys?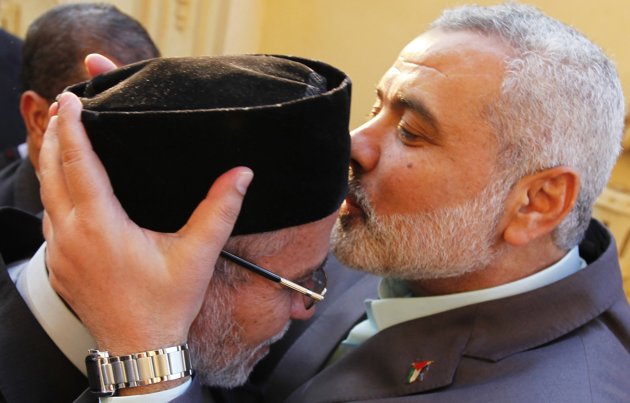 Terrorist Hamas Gazilian leader, Ismail Haniyeh, giving Mohamed Badie's prayer bump a smooch.
Badie accuses media of tarnishing Muslim Brotherhood's image
The Supreme Guide of the Muslim Brotherhood, Mohamed Badie, launched a sharp attack on media outlets on Monday, accusing them of tarnishing the image of the group.
"The devil inspires the media to create an image of the Brotherhood as a substitute of the National Democratic Party (NDP) that will destroy the country," said Badie in a symposium in Beni Suef city, south of Cairo, marking the inauguration of the group's headquarters in the governorate.
Badie stressed that the group is doing its role in serving Egypt as a majority that came to power through fair elections.
"The group that came to power through the fairest election in Egypt's history doesn't own Egypt and has worked as majority to return the ship to its natural course," he said.
Badie urged the attending youth to battle for the rights of people in the countryside through the 52,000 seats in the municipalities' elections after the presidential election. The attendees chanted slogans supporting the group at the end of the conference.
Badie's statements caused an uproar among media experts.
H/T: Blowfish