On Christmas morning no less.
So I guess she provided him the service of a son, and she was no longer needed, so out comes the blade and into the ditch she goes, and on Christmas morn. No mention however, whether he was wearing a Santa Clause suit or not at the time of the murder. KGS
H/T: Fluffi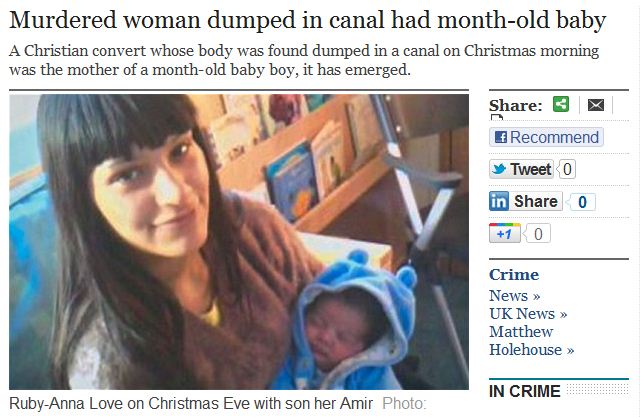 Ruby Love, 23, from Harrow, North London was found by a dog walker in the Grand Union Canal in Southall, West London, by a dog walker shortly before midday on Sunday.
Manzar Juma, 27, the father of two of her children, was charged by police with her murder. He is understood to be Muslim and unemployed. He is due to appear in court on Friday.
Miss Love was born Rabina Malik into a Sikh family but her mother changed the family's names by deed poll in 2003. They attend a nearby Catholic church, she said.
She had three chilrden, a girl, nine, and two boys, Adam, two, and Amir, four weeks, and worked in her family's property business. She had hoped to train as a midwife before having children.
Her mother Precious, 45, said: "Both my daughters are very devout Christians. She was a daughter of God. She had a cross tattood on her foot.