The word "apartheid" has been bandied about by the Arabs and their willing stooges in the anti-Israel Left for decades, having no basis in fact, it's used as a smear with the hope that the ears of an ignorant audience will identity with it and become outraged. Facts however are stubborn things, and when viewed under a proper light, and with a bit of good old common sense, you realizes just how disingenuous the smear of apartheid is when used to describe the Jewish state of Israel.
If you really want to see apartheid, head on over to just about any Arab state (the Fakestinians  demand a Jew free Fakestine) and Saudi Arabia in particular, where being a non-Muslim in Mecca or Medina will earn you a quick trip to a public execution by decapitation. KGS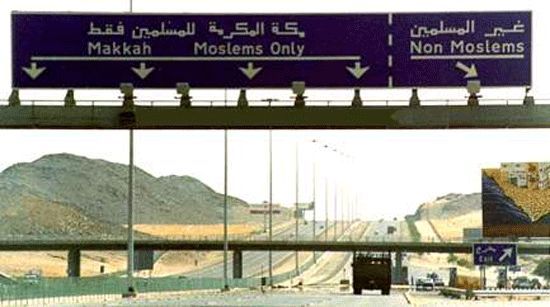 NOTE:Don't forget infidels, miss that last exist and it'll be your last.
What About The Arab Apartheid?
by Khaled Abu Toameh
March 16, 2010 at 5:00 am
How come the Lebanese students who recently talked about Israel's "war crimes" in the Gaza Strip during Israel Apartheid Week on many North American college campuses had nothing to say about the fact that tens of thousands of Palestinians have been massacred in Lebanon over the past four decades?
Dozens of refugees were killed and hundreds wounded in the three-month offensive that also destroyed thousands of houses inside the refugee camp. Reporters said it was the worst internal violence in Lebanon since the civil war that hit the country between 1975-1990. And just three years ago, the Lebanese Army used heavy artillery to bomb the Nahr-al-Bared refugee camp in north Lebanon.
Yet who has ever heard of a United Nations resolution condemning Syria or Lebanon for committing horrific atrocities or discriminating against the Palestinians?
The Lebanese, Syrian and Jordanian students and professors who took part in the anti-Israel events on campuses have clearly "forgotten" that their regimes probably have more Palestinian blood on their hands than Israel. In the early 1970s, the Jordanians slaughtered thousands of Palestinians in what has become known as Black September. Can somebody point to one United Nations resolution condemning that massacre?