Yes, these troops are supposed to be protecting the citizens of Nigeria, but they're involved in the attacking of an ever decreasing population of its Christian citizens. Gee, that makes me tend to believe that the Christians are not considered first class citizens by the Nigerian government, but instead as…..wild game. KGS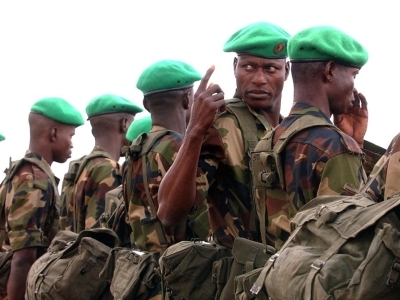 Gyang lamented that Muslim soldiers brought to town to restore order joined their fellow Muslims in killing and maiming Christians.

"Muslims soldiers took sides with their fellow Muslims and were shooting and killing Christians," he said. "They also had soldiers guarding mosques in the town, but none was sent to watch over our churches, and that is the reason Muslims were able to burn the Baptist church in the town."
At Least 45 Christians Killed in Plateau State, Nigeria
Ethnic Fulanis crying 'Allahu akbar!' attack church, communities.
BARKIN LADI, Nigeria, November 28 (CDN) — Fulani Muslim herdsmen along with Muslim soldiers have killed at least 45 ethnic Berom Christians in Plateau state in the past week, Christians in this northern-central Nigerian town said.
Smaller attacks beginning on Nov. 20, reportedly over allegations by Fulani Muslims of cattle theft, preceded an attack on a Barkin Ladi church on Nov. 23 that killed four Christians, and an assault the next day left 35 Christians dead in Barkin Ladi and nearby Kwok village, according to area Christian leaders.
Church attendance was decimated yesterday as thousands of Christians have left the area.
"Christians are fleeing the town because we have no guns to fight back," said one woman in a group of six Christians trying to leave Barkin Ladi. "Muslims have guns, and they have their soldiers fighting for them, so we have no choice but to leave town."
Almost all churches in the town cancelled or held reduced worship services on the first Sunday (Nov. 27) after the crisis was contained, as nearly all area Christians have fled to Jos or have left Plateau state, long hit by ethnic property conflicts fueled by anti-Christian sentiment. In March 2010 ethnic Berom Christians, who live as farmers, suffered attacks from Fulani nomads who graze their cattle on the Beroms' land, resulting in hundreds of deaths in three villages near Jos.
In the attack on Thursday (Nov. 24), the Fulani Muslims were shouting "Allahu Akbar [God is greater]," said farmer Choji Pamjamo, 51.
H/T: Weasel Zippers