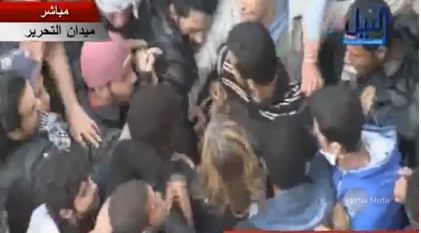 Journalists sexually assaulted covering Egypt unrest
Published: 25 Nov 2011 09:22 GMT+1
Updated: 25 Nov 2011 08:03 GMT+1
Two female foreign journalists, including one working for French TV channel France 3, described harrowing sexual assaults carried out by crowds or police as they tried to cover demonstrations in Cairo's Tahrir Square.
Egyptian-American journalist Mona Eltahawy said she was sexually assaulted by police during hours under detention after taking part in protests on the sprawling square that has become a landmark of the Arab Spring.
"Besides beating me, the dogs of (central security forces) subjected me to the worst sexual assault ever," Eltahawy said on her Twitter account.
"5 or 6 surrounded me, groped and prodded my breasts, grabbed my genital area and I lost count how many hands tried to get into my trousers," she said.
"My left arm and right hand are broken (according) to x-rays," she said, posting pictures of herself in casts.
Earlier Eltahawy, an award-winning journalist and public speaker on Arab and Muslim issues based in New York, tweeted that she had been released after having been beaten and arrested in the interior ministry building.
Later, a French journalist working for public television channel France 3, said she had been violently beaten and sexually assaulted while covering the protests.
Caroline Sinz told AFP that she and her cameraman, Salah Agrabi, had been confronted in a road leading from Tahrir to the interior ministry, the scene of days of deadly clashes between police and protesters demanding democratic change.