Lets drop the pretense that it's only a few misguided, 'fringe voices' in the Occupy movement who are the anti-Semites. Here once again vitriolic anti-Semitism in full bloom at an Occupy event, and coming from one of the main leaders of the group. KGS
H/T: POTB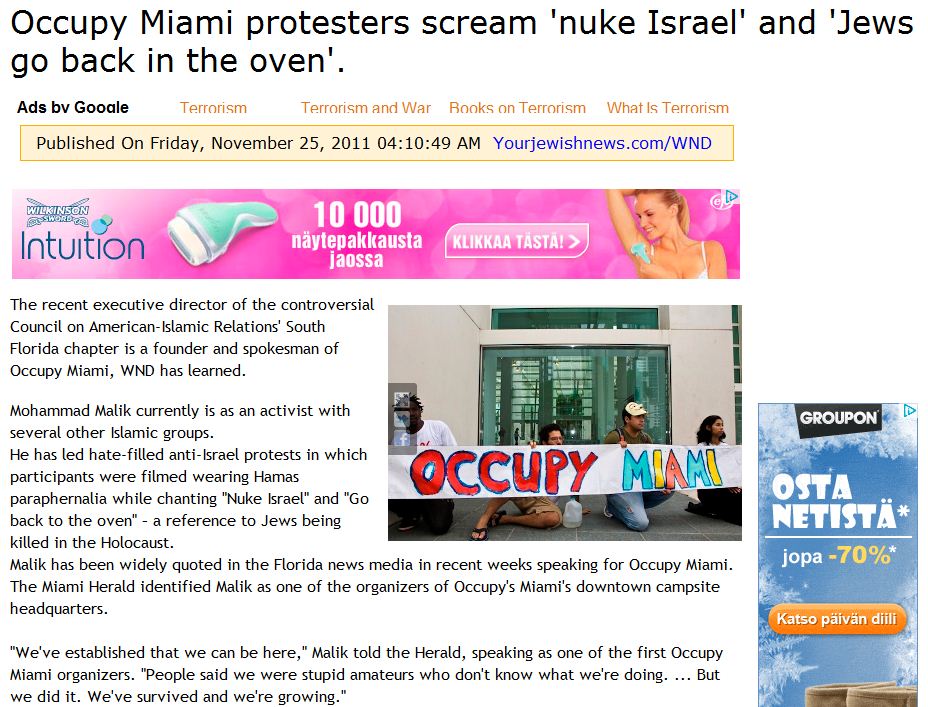 Last week, the Florida Independent reported Miami police had asked Occupy activists to temporarily leave their camp digs.
The Independent quoted Malik, identified as protesting with the group since the beginning, as stating there were "a lot of cops" in the area, but protesters were "trying to figure out the situation so that it doesn't escalate."
The Independent previously quoted Malik as an "unemployed Miami native who has worked with the ACLU and is the current spokesperson for Occupy Miami."
In September 2010, Malik was appointed as the director of CAIR's South Florida chapter, covering the region of Broward, Palm Beach and Miami-Dade counties.
In March 2010, Malik organized a CAIR dinner in Miami. The keynote speaker was Siraj Wahhaj, who was named as an unindicted co-conspirator in the 1993 World Trade Center bombing. Wahhaj has also defended the convicted WTC bomb plotters and has urged the Islamic takeover of America.