Yet another faux "humanitarian" flotilla to Gaza attempt. Will the Turks dare to send naval ships as escorts? KGS
H/T Challah Hu Akbar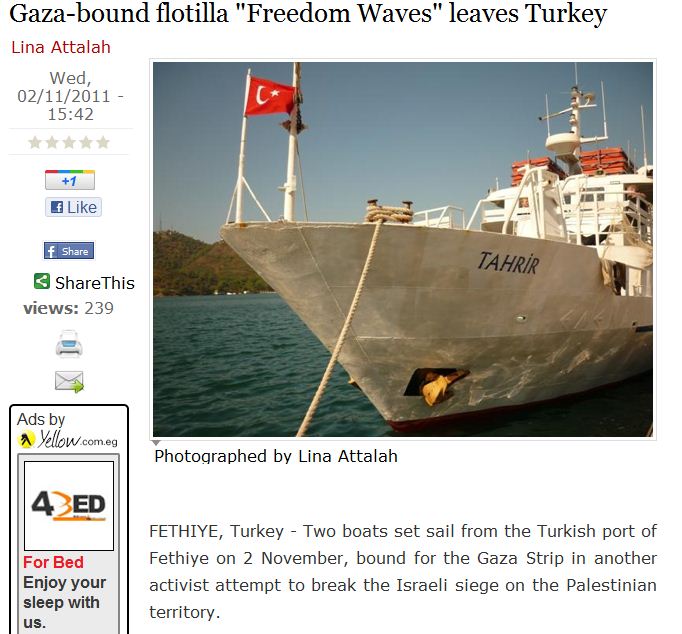 The two boats, one Irish and one Canadian, were supposed to carry some 50 activists and journalists from around the world in an attempt to draw attention to the isolation Gaza has suffered since 2007. The number was reduced to about 25 at the port in Fethiye due to complications with Turkish bureaucracy.
The Canadian boat is carrying US$30,000 in medical aid.
Amid cheers from activists at the port, the Canadian boat, Tahrir, departed at 2 pm local time. The activists who were left behind due to bureaucratic reasons, cheered and greeted fellow activists on board, asked them to bring back postcards from Gaza and to take care of themselves.
"Stay human," shouted David Heaps, a member of the boat's steering committee, echoing the words of Vittorio Arrigoni, an Italian Gaza solidarity activist who was murdered in April.
The flotilla, called "Freedom Waves" by the organizers, sails after a flotilla of activist boats attempted to break the Israeli siege of Gaza in July but were prevented from leaving port by Greek authorities in a move that activists on board dubbed "Israeli outsourcing" of the Gaza blockade.
UPDATE: Challah Hu akbar notes that they've enlisted the help of Google to track the Hamas supporters.