Folks, there's an old adage that says: "Anytime the words Peace Forum are used in the same sentence with the words Middle East or Israel, it means an event actually organized to demonize the Jewish state." That's it in a nut shell.
What else can come from an event headed by the radical, anti-Israel voice of Bruno Jäntti, founder of the Finnish branch of the Israeli Committee Against House Demolitions (ICAHD), Illan Pappé, a petty pseudo scholar that's guilty of penning nearly every anti-Israel trope and mixed up notion of modern Israeli history known within the anti-Israel movement.
And then there is Ali Abunimah, co-founder of the Electronic Intifada, which is plagued by modern day anti-Semitism. In a JPost article, NGO monitor informs that EI regularly equates Israeli policies with that of the Nazis, something of which by the way, violates the EU's own working definition of anti-Semitism.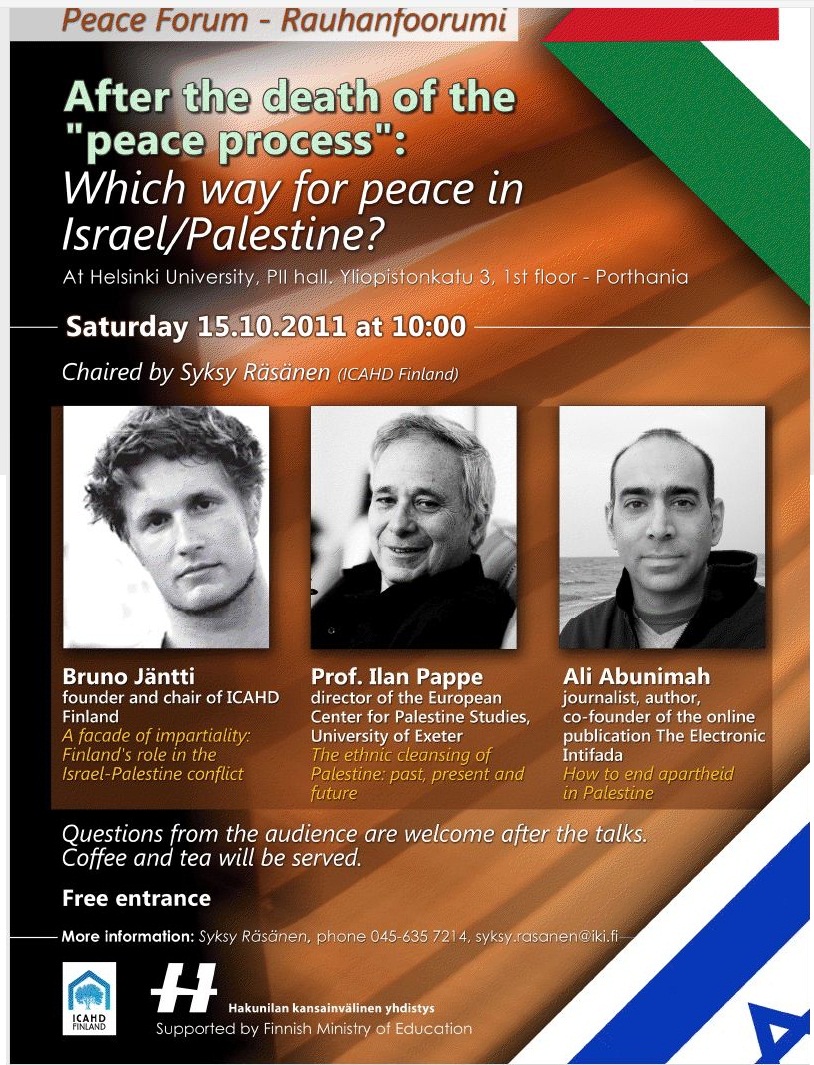 So THE QUESTION that arises here is, why is the Finnish Ministry of Education sponsoring this event? Does the Finnish government know about these individuals that they are sponsoring, and of the hatred that they spread of the Jewish state, and if so, are they then in approval of their hate speech? KGS
Contact details below the fold.
Tel:
+358-(0)9-160 04 or +358-(0)9-578 14 (Switchboard)
Fax:
+358-(0)9-135 9335 (Registry)
E-mail:
Official e-mail address: kirjaamo(at)minedu.fi
Personal E-mail addresses: forename.surname@minedu.fi
(For ä, ö, å, é use a, o, a, e; e.g. Järvinen = jarvinen)
Direct dialling:
+ 358-(0)9-160 (+ extension) or
+358-(0)9-578 (+ extension)
The Registry of the Ministry of Education and Culture (Official Documents)
open Mon-Fri 08.00 to 16.15
Meritullinkatu 10, Helsinki
Tel: +358-(0)9-1607 6999
Fax: +358-(0)9-135 9335
kirjaamo(at)minedu.fi