It could have been much much worse!
Well it's better that these three women win it, then the supposed "Arab Spring" rabble that took to the streets earlier this year, which was actually comprised of some activists for liberty, but with the majority being anti-Semites and for Islamo-mob rule.  KGS
NOTE: Ellen Johnson Sirleaf, president of the slowly Islamizing Christian state of Liberia, holds extremely naive views concerning Islam, so she will only serve to help further erode the liberties that remain in Liberia, soon to be renamed Tyrannia after Islam runs its due course.
Nobel Peace Prize Goes to Women's Rights Advocates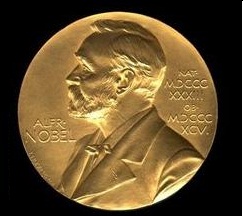 OSLO, Norway (AP) — The 2011 Nobel Peace Prize was awarded Friday to Liberian President Ellen Johnson Sirleaf, Liberian peace activist Leymah Gbowee and Tawakkul Karman of Yemen for their work on women's rights.
The Norwegian Nobel Committee honored the three women "for their non-violent struggle for the safety of women and for women's rights to full participation in peace-building work."
"I am very very happy about this prize," said Karman, a 32-year-old mother of three who heads the human rights group Women Journalists without Chains. She has been a leading figure in organizing protests President Ali Abdullah Saleh that kicked off in late January as part of a wave of anti-authoritarian revolts that have convulsed the Arab world.
"I give the prize to the youth of revolution in Yemen and the Yemeni people," Karman told The Associated Press.