Well Obama did in fact invite them to hear him speak in Cairo.
Because rational thinking and moderation coupled along with honest dialogue, is exactly what comes to mind when thinking about the Islamic supremacists called the Muslim Brotherhood. KGS
RAISIN BUMPS ALL OF THEM.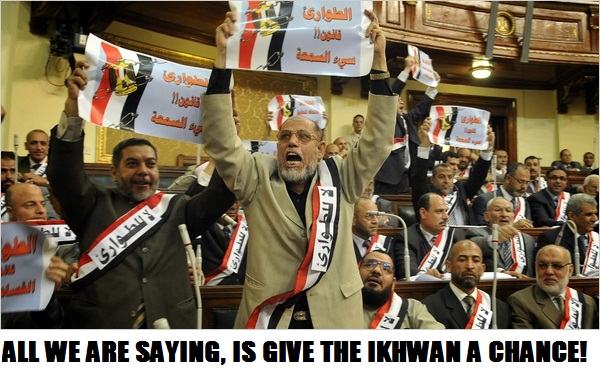 U.S. met with Egypt Islamists: U.S. diplomat
By Edmund Blair
CAIRO | Sun Oct 2, 2011 6:39am EDT
(Reuters) – U.S. officials have met members of the Muslim Brotherhood's political party, a U.S. diplomat said, after Washington announced it would have direct contacts with Egypt's biggest Islamist group whose role has grown since U.S. ally Hosni Mubarak was ousted.
Washington announced the plans in June, portraying such contacts as the continuation of an earlier policy. But analysts said it reflected a new approach to the way it dealt with a group which Mubarak banned from politics.