It's called Islam 101. The Vatican is playing with fire and it's going to get seriously burnt. There is nothing to stop the mohammedan horde if the main institutions in the West lay down and bear their necks. A disgusting display to watch. Is the pope ready to switch sides or what?  KGS
NOTE: Now it's clear why the Vatican is not speaking on behalf of the Iranian pastor slated for slow death strangulation for apostasy from Islam. The Catholic church has chosen its rotten path and they're sticking to it. Talk about the Whore of Babylon.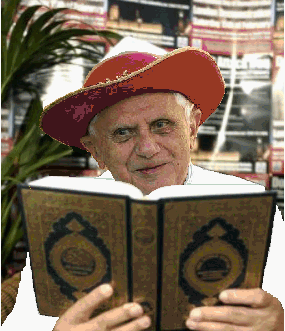 Vatican's pact with Islam
Ynetnews special: Italian journalist examines Vatican's submission to political Islam
Giulio Meotti
Published: 10.02.11, 08:31 / Israel News
It has been five years since gave his controversial lectio about Islam at the German University of Regensburg. On September 12th, 2006, Joseph Ratzinger claimed that the god of the Muslims is both transcendental and unreasonable and he severely condemned jihad and the use of violence in the name of Koran. It was the only public event in which a Pope told the truth about some aspects of Islamic religion.
Benedict XVI made himself a central player in the post-9/11 era: His speech against the link between religion and violence, typical of Islam today, was not a mistake or a false step, as some observers wrote at that time. It was, rather, a vigorous attack against certain aspects of Islamic fanaticism.
The reaction to the Pope's speech was a familiar spectacle: Threats, riots, and violence. From the religious leaders in Muslim majority countries to the New York Times, all demanded the Pope's apologies. In the Palestinian areas, churches were attacked and Christians targeted. In the Somali capital, Mogadishu, an Italian nun was executed. In Iraq, Amer Iskander, a Syrian Orthodox priest, was beheaded and his arms mutilated.
In Islamic forums, Ratzinger was depicted like Dracula. He received many death threats: "Slaughter him", "pig servant of the cross", "odious evil", "Allah curse him", "vampire who sucks blood" and so on. The highest Islamic representative in Turkey, Ali Bardakoglu, declared that Ratzinger's speech was "full of enmity and hatred." The Egyptian Muslim Brotherhood pledged "reactions worst of those against the Danish cartoons".
[…]
Benedict XVI recently visited again his native Germany, but this time with a different agenda. Five years later, the Vatican adopted a pro-Islam course and has capitulated to fundamentalists. In a recent book written by German journalist Peter Sewald, Pope Ratzinger expressed "regrets" about the Regensburg lecture. The Vatican's Secretary of State, Tarcisio Bertone, buried the Pope's lesson about Islam as "an archaeological relic."
"The default positions vis-à-vis militant Islam are now unhappily reminiscent of Vatican diplomacy's default positions vis-à-vis communism during the last 25 years of the Cold War," writes George Weigel, a leading US writer about the Vatican. The Vatican's new agenda seeks "to reach political accommodations with Islamic states and foreswear forceful public condemnation of Islamist and jihadist ideology."