The excesses and bumbling of big government outweigh anything that can happen in the capitalist free market place. KGS
Milton Freidman: "People are more careful and efficient in spending their own than other people's money."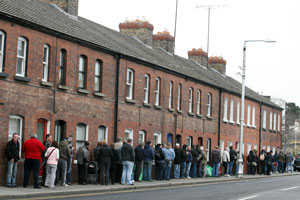 Bosnian family earning over $121,000 on welfare in Ireland
Unemployed couple with four children takes home $2,385 a week for doing nothing
An unemployed married couple from Bosnia, with four children, is taking home over $121,000 (€90,000) per year in welfare checks.
The couple, who live in Dublin, takes home $2,385 (€1,763) per week.
Labour Party Senator Jimmy Harte has called for a cap on the amount of social welfare payments a family can receive. Harte received the information about this family from the Department of Social Protection officials. He says that $68,000 (€50,000) is more than enough for one family per year.
Harte said "The family are doing nothing illegal but the system is wrong when a couple are able to receive €90,000 [$121,000] per year for doing nothing. I don't think this sort of payment is acceptable in the good times, never mind the bad times we find ourselves in now.