This is how they do it in Pakistan
Members of the pajamas and slippers club watch their victims die a painful death
A Pakistani family refuses to give into Islamic street vigilantism and murder their daughter because she claimed that she was raped. That's how it is folks in many Islamic countries, in order for a woman to seek justice against the person or group that raped her, she has to provide four or more witnesses, otherwise she'll be charged for sex outside of marriage and executed.
It's sick. What also is sick is the Islamic street vigilantism that keeps the average Muslim in check, including the relatives of an "errant" family member. Just take a stroll down memory lane concerning the Rifqa Bary case,  the 17 year old who left home because she believed that her parents were about to murder her.
The parents belong to a very hardline (traditional mosque) and the police were clueless about it all, but thanks to Pamela Geller and Robert Spencer (and in a small way the TT for providing coverage, photoshop pictures and transcribing audio for Pamela) the verdict went Rifqa's way, and the parents were denied custody, as well as the court case highlighting the negative aspects of sharia law, Islam, honor killings in general.
A friend of the TT living in Israel (let's call him Shmuelik) once described a personal experience in which the sister of a long time Arab friend of his was brutally murdered in the family's upstair loft. Upon hearing of the murder, my friend Shmuelik expressed his deepest condolences to his Arab friend of over 20 years, saying that it must come as a shock and offered his compassion. The Arab just shook it off, and said:
Why should I be miserable? My family honor has now been restored , purged with the blood of my sister. I can walk down the streets of my village without shame, with my head held high."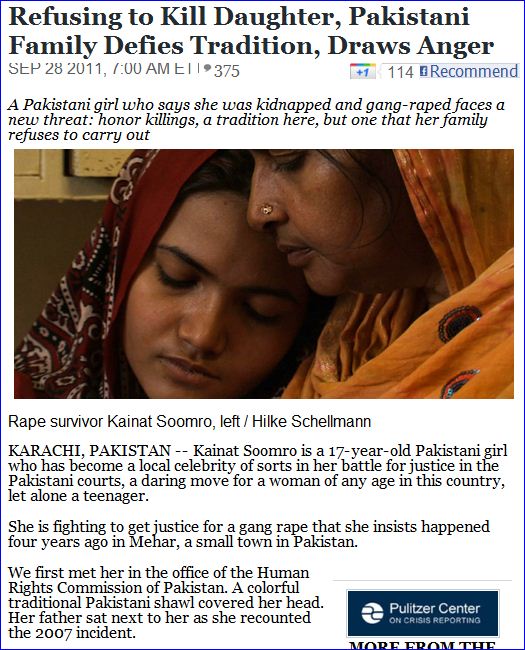 Via: Weasel Zippers