Lets be perfectly clear here, while this is an excellent example of Democrat crony capitalism (a.k.a. corporate welfare) much of the same can be found with the GOP party leadership as well. It's rife in both parties, and it's that cronyism that is fueling the anger with average Tea Party participant. Tax and spend, incredible waste, coupled with shady deals that lands politicians with lucrative deals once they are in private life (and in many cases prior to their retirement).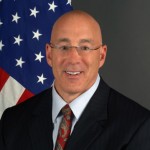 Presidents handing out ambassadorships to cronies who plied their coffers with campaign money is something that has to end as well. The reason why the practice should end, is the business end potential of the ambassador position, these ambassadors are well placed as "intermediaries" for future business deals, being the "go to guy" if you need a contact in whatever country.
For an example, the US ambassador to Finland, Bruce J. Oreck (pictured), is a green tech bussinessman prior to being picked and assuming his post, and shoveled over half a million dollars to the Obama campaign:
 Bruce J. Oreck, for ambassador to Finland. Oreck, a lawyer who  previously served as general counsel and vice president of his family's famous vacuum company, bundled more than $500,000 to Obama's presidential campaign. He and his wife, Charlotte, also bundled another $75,000 Obama's inauguration. (Existing disclosure requirements for inauguration bundlers don't make it clear whether that includes his personal contribution of $50,000.) Along with his wife and children, he has contributed $261,550 to federal Democratic candidates, parties and committees since 1989. That includes $9,200 to Obama and $1,000 to Hillary Clinton last cycle. 
The Tundra Tabloids met the ambassador at a private function a couple of years ago in Helsinki, and let it be said, he has spent a lot of time traveling and visiting Finland's green industry, and no doubt has made a lot of future contacts to be exploited once he leaves his post. That's the nature of the gig, this sick form of back scratching that goes on inside both parties, and it has to end. KGS
BREITBART: "The Obama Administration fast tracked Solyndra's loan application and now $535 million dollars of American tax payer money is gone along with 1,000 green jobs. How many more examples of green jobs failure do we need before we realize you can't centrally plan economic prosperity?"