Keith Ellison and a host of other Democrat congressmen and senators heaped scorn and vitriol against rep. Peter King and his congressional hearings on the radicalization of Islam within the United States.
This statement from the Somali foreign minister comes as a welcome vindication of those hearings, something of which Dems like Ellison sought to undermine for political and ideological reasons. Flat out lying in their comments and testimony, with the most notorious of these statement coming from Ellison himself, is a gross display of dishonest emotionalism, that's exactly right, dishonest emotionalism.
The Tundra Tabloids will of course be in disagreement with the Somali FM on the nature of Islam itself, that this radicalism is not an anomaly, far from it, it's an inherent ingredient within Islamic texts and set to erupt whenever Islam finds a crack or crevice to exploit. It's never a question of if, but of when. Just look at the historical record. KGS
NOTE: This is a difficult concept for many to comprehend, it's seen in the knee-jerk reactions that compel them to remember that friendly Muslim businessman who "drank alcohol", or the friendly Muslim family from around the corner, when in fact (though that may be true and it often is) it has nothing to do with Islamic texts and the historical record.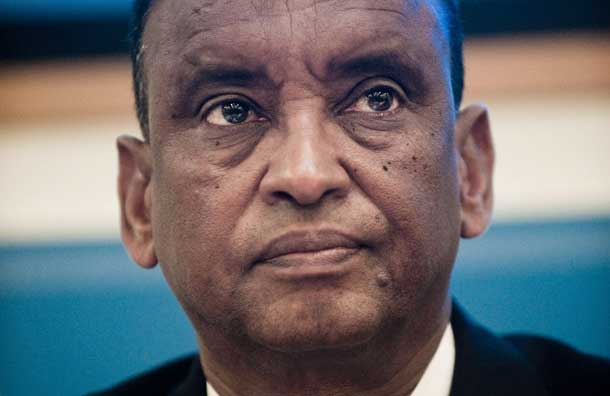 Somali Foreign Minister Mohammed Ibrahim: Thanks Peter!
Rep. King reaps Somali praise for Muslim hearings
(The Hill) — Rep. Peter King (R-N.Y.) said on Tuesday that Somalia's foreign minister called to voice his support for the hearings the lawmaker is holding this year on radicalization within the Muslim-American community.
As chairman of the House Homeland Security Committee, King has held three hearings on the topic. The latest, in July, explored al-Shabaab's recruitment tactics with Americans in the U.S.
Al-Shabaab is an al Qaeda affiliate that has attracted and recruited dozens of Muslim-Americans in its efforts to promote violence, according to King.
Somali Foreign Minister Mohammed Ibrahim said that his country, which has been in a state of upheaval for several decades as factions battle for control of its government, fully supports King's hearings.
"Foreign Minister Ibrahim emphasized that Somali Prime Minister Abdiweli Mohamed Ali joins in supporting the hearings, two of which focused on al-Shabaab, the al-Qaeda-affiliated terrorist organization based in Somalia that has radicalized dozens of Muslim-American young men in Minneapolis and other cities, recruiting them to travel to Somalia to fight," said King in a statement.
"U.S. intelligence officials say al-Shabaab poses a threat to the U.S. homeland, which must be thwarted. Foreign Minister Ibrahim and First Secretary Omar Jamal assured me of their government's full support and cooperation in my hearings."
Via: Weasel Zippers