Fake Indian Ward Churchill seen smiling.
This is what happens when the rule of law hinges upon political expediency. In an age where free speech meant exactly that, Mr.Bolt wouldn't even to have bothered with a lawsuit from these whiners, their case would have been thrown out by any number of judges.
Now that the PC crowd have infiltrated every tier of government and bureaucracy, these totalitarians are emboldened and protected in their witch hunts of people who dare to disagree with them and their policies. Andrew Bolt was just tied to the stake and burnt. KGS
Andrew Bolt loses racial vilification court case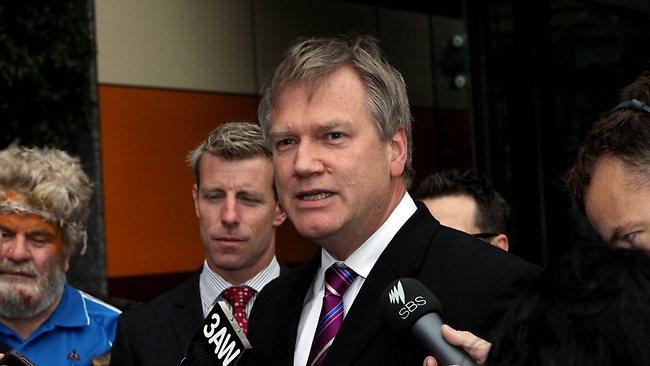 Columnist Andrew Bolt outside the Federal Court in Melbourne after being found guilty of breaching the Racial Discrimination Act. Picture: Trevor PinderSource: Herald Sun
A court has found News Limited columnist Andrew Bolt breached the Racial Discrimination Act.
HERALD Sun columnist Andrew Bolt has lost an action brought in the Federal Court in which the columnist was accused of breaching the Racial Discrimination Act.
Bolt was found to have contravened Section 18C of the Racial Discrimination Act.
Nine aboriginal applicants brought a class-action against Bolt and the Herald and Weekly Times claiming Bolt wrote they sought professional advantage from the colour of their skin.
There were cheers and applause in the court when Justice Mordecai Bromberg read out his verdict.
He found that "fair-skinned Aboriginal people (or some of them) were reasonably likely, in all the circumstances, to have been offended, insulted, humiliated or intimidated by the imputations conveyed in the newspaper articles" published in the Herald Sun.
In a brief statement outside the Melbourne court after the judgment, Bolt said "This is a terrible day for freedom of speech in this country."
"It is particularly a restriction on the freedom of all Australians to discuss multiculturalism and how people identify themselves," he said.
"I argued then and I argue now that we should not insist on differences between us but focus instead on what unites us as human beings."
The Herald and Weekly Times, publisher of the Herald Sun, has not confirmed whether it will appeal the decision. The judge ordered parties to confer on on relief, which is expected to include a declaration by the publisher that the HWT and Bolt contravened section 18C of the Racial Discrimination Act.