This is as scary as it gets, and she's rather open about it. Thanks to Vasarahammer for the heads up on this article, who adds this salient observation:
The target, of course, is to make us good Europeans. It reminds me of the attempts to create Homo Sovieticus. And the method of exposing the test subjects to negative images about Finnish history smells like the movie Clockwork Orange and the Ludovico Technique that was used to curb the main character Alex DeLarge's violent impulses.
A rebuttal of her thesis by historian Markku Jokisipilä, will be translated and published both here and in another post in the next couple of days. Simply stunning. They really do mean to break us. KGS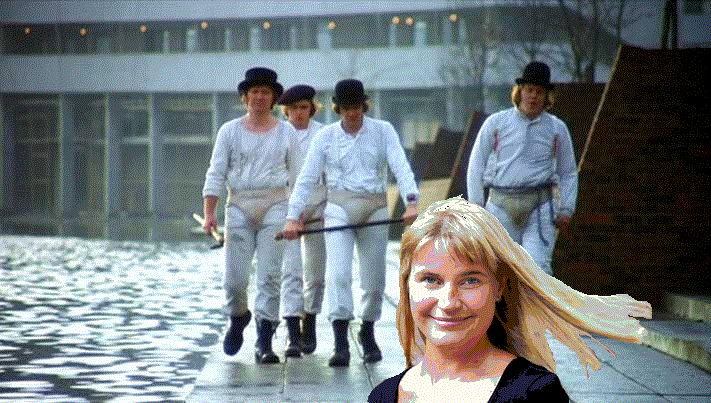 Xenophobia stopped by showing people their own dark history?
On behalf of: Inari Sakki, social psychologist
An understanding of their own country's gallant history can shore up xenophobic attitudes. Sharp positions may become tolerant, if people are reminded of the history of disgraces.
This is the assumption on which social psychologist Inari Sakki of the Academy of Finland began her three-year project.
Inari Sakki examines the perceptions of the importance of the popularity of anti-immigration. The study consists of two parts: the researcher as defined by the extreme right-wing rhetoric and empirical research manipulation.
According to Sakki, research in Germany already shows evidence that images of concentration camps evoke feelings of shame and guilt, and influences perceptions of foreigners which become more favorable.
Following Germany's example Sakki will present the target group with photographs and text clips of suppressed issues in Finnish history.
One such area is of World War II concentration camps in Eastern Karelia.
– There's nothing unethical in the method, This is not a laboratory experiment, but a form-based test, in which manipulation is involved. It should not cause psychological stress, Sakki says.
According to Sakki the important thing is for manipulation to get people to identify with what they saw. Images need to wake up the idea that the viewer is partly responsible.
– In order for collective emotions occur, subjects will experience a historic event as a collective activity, "we Finns did this."
Sakki is the first to use manipulation in Finland.
In Belgium manipulation was done by using a dark study of the colonial history of Congo. In Britain, the Germans were studied by describing them with the Nazi period.
Finland's history is a sensitive matter. Sakki received a lot of angry feedback when the University of Helsinki announced the study. The violent mind can become through manipulation gentle like the protagonist in Stanley Kubrick's film A Clockwork Orange.
Sakki has become familiar with the references to the film. She emphasizes that the study does not attempt to shock, but to explore the collective memory.
– An experimental manipulation, has not yet begun, nor does it really mean nothing to the brain curves. Collective feelings of guilt and anger are a hot topic in social psychology in the world.
Part of the research on rhetoric is the investigation of the blogs of six Finns parliamentarians. Under investigation are immigration critical signers of the Nuivan election manifesto, Jussi Halla-aho, Olli Immonen, James Hirvisaari, Juho Eerola, Maria Lohela ja Vesa-Matti Saarakkala.
– They are very different types of bloggers. Halla-aho is definitely a master. I wonder why the last Facebook update led to political conflict. There's a lot more rude blurtings of foreigners.
Who: Inari Sakki
Inari Sakki Ph.D. 2010, University of Helsinki Faculty of Social Sciences on "A Success Story or a Failure? – Representing the European Integration in the Curricula and Textbooks of Five Countries ".
In her dissertation she examined books giving a picture on European integration.
Sakki's academic research examined the history of the Finns and the perception of extreme right-wing support.
She is a social psychologist.